This is the last post in my series on crisis gardening.
So far we covered planning how much to grow, choosing the most suitable location for the crisis garden, and designing a crisis garden layout. Now today we'll talk about garden bed preparations.
In this guide, I'll outline my method for preparing garden beds for planting. This is a method I specifically use for rebuilding or sustaining the soil fertility in pre-existing garden beds. The initial garden preparation might differ slightly in that you'll need to remove the existing vegetation, most likely grass or a lawn, to start a garden bed.
To grow vegetables in your crisis garden and ensure continuous and reliable yields you'll have to make sure that your soil, in addition to the good structure, has the nutrients the veggies need for their growth. The vegetables are very demanding and perform poorly if the soil fertility is lacking. Also, as they grow, they will deplete nutrients more than most other plants found in nature.
Therefore, managing soil fertility will always be a crucial task in prepping both new and existing garden beds. You'll have to do this through adding appropriate amendments, organic fertilizers, and compost.
With soil amendments and organic fertilizers, you'll be able to address certain soil deficiencies and provide plants with readily available micro- and macronutrients. And by adding organic matter you can provide both fuel and a habitat for all soil organisms, and build soil structure as a result.
Okay, so here are the precise steps on how to prepare garden beds for planting.
STEP 1. Remove the existing vegetation
If you are starting from scratch you can do this by removing the sod by hand, sheet mulching, or good old tilling the ground with a shovel or a machine.
I prefer the no-till methods but even if you decide to till the ground, you'll only have to do it this once to break the ground so to speak, while later on you can do the no-till as you'll just keep adding compost on top.
In case you already have crops going in your bed, you start by pulling out and clearing all the previous crops. Pull them from the base of the plant and shake off the soil so that you're not moving soil around. It's best to keep as much soil intact as you can.
STEP 2. Aerate the soil
Regardless of how you decide to start in step 1, the next step is always to let some air into the soil. For this you can use a broadfork or digging fork to loosen the subsoil on your beds.
So take your broadfork/digging fork and apply pressure with one foot to press the tines into the soil, then pull back on the handles to lift and loosen the lower soil slightly. Raise the tines out of the soil, move 6 in (15 cm) further back, and repeat the sequence until you make a full pass down the bed.
STEP 3. Add appropriate soil amendments/organic fertilizers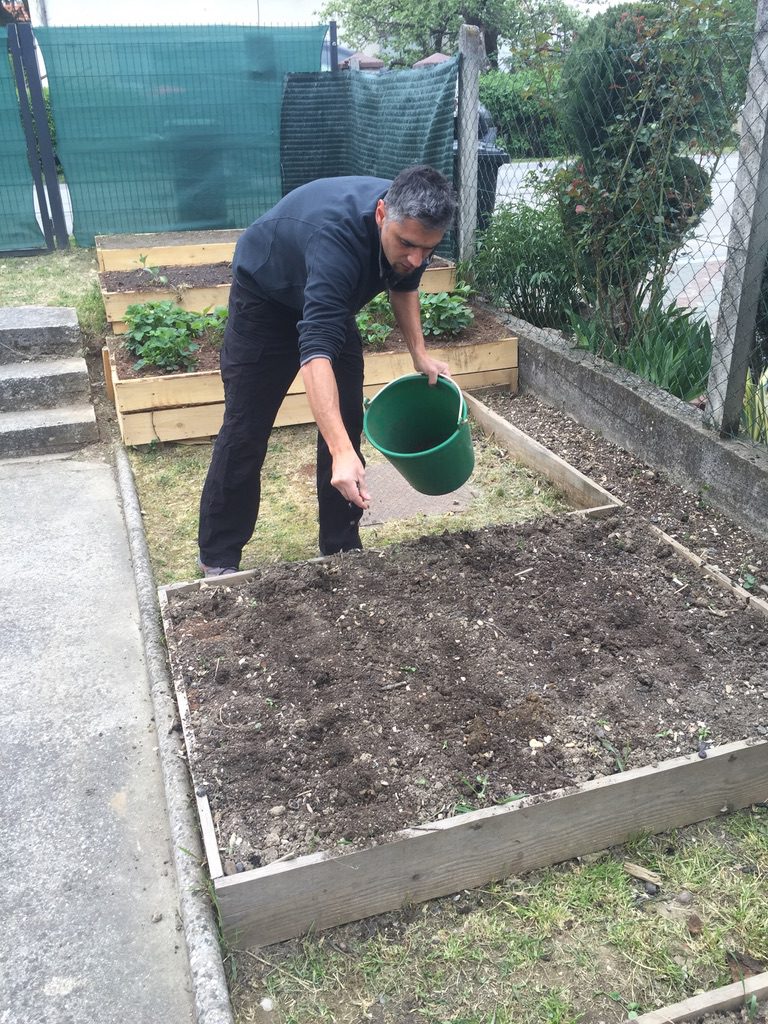 Now add soil amendments/fertilizer onto the bed's surface. Which ones you'll use depends on the nature of the deficiencies of your soil.
Here are some soil amendments/organic fertilizers you can use:
Bonemeal or Phosphate Rock — Slow-release sources of phosphorus, useful for fruiting veggies like tomatoes.
Alfalfa Meal — A quick-acting source of nitrogen and some potassium. Also it's very high in trace minerals.
Kelp — Supplies a range of trace nutrients, as well as a dose of plant hormones.
Blood meal — A good source of nitrogen.
Wood Ash — High in potassium and has an alkaline effect on the soil. Lasts 6 months.
Aged Manure — Nutrients are rapidly available to plants; the amount of nutrients will vary widely, depending on the type of animal, the bedding material used for the animal, and how long the manure has been aged.
When in doubt use poultry manure as this will supply the necessary nitrogen for the early stages of the plant growth when they need it the most for fast development. Later on, the compost will take over the job of releasing the rest of the required nutrients for optimum growth.
STEP 4. Mix the amendments/organic fertilizers into the soil
Use simple hand tools to mix the amendments/organic fertilizers into the soil. Here you should work only the top 2 in (5 cm) of the soil. This way you do not disturb the soil structure, and you avoid disturbing dormant weeds and bringing them to the surface to germinate.
Take a rake or a digging fork and mix in your amendments/organic fertilizers into the top of the soil. Pay attention to spreading the amendments/organic fertilizers evenly.
STEP 5. Apply compost
Finally, spread a layer of well-finished compost on the soil. Use a roughly 5-gal bucket (20 l) for every 10 ft (3 m) of 30-inch-wide (0.7 m) bed. For raised beds that would be approximately a bit less than two 5-gal buckets (40 l).
Rake the bed smooth, mix in shallowly, level up as necessary.
Now your beds are ready to plant!
---
All right, so that was my method of preparing beds for planting – it's easy and effective and it works. I do this when I'm prepping new beds for planting for the first time, and every time for putting existing beds back to production after a harvest.
For existing raised beds, it takes me some 15 minutes to do the prep and have the bed replenished and ready to be back in production.
If you found this post helpful, make sure to subscribe to my newsletter where I share practical tips like this and other content that's exclusive to my email list.
Talk soon,
-William