In this post, I'll outline a cost-effective and sustainable method of obtaining woody mulch for your food forest.
For this 'workflow' to work, you need to have a source of woody material on your land. This can be a forest or other (unwanted) woody vegetation growing on your property that you can then selectively clear and, after a period of "maturation," use as mulch.
By sourcing this woody material from your local biome and incorporating it into your food forest as a mulch, you do several things:
Save money on bringing in woodchips and/or compost
Smother the weeds
Inoculate the area and the food forest system with microbes and decomposing fungi from the local biome
Plus, all the other good things a mulch layer does: insulation, soil protection, temperature modulation…
I gather this material annually in September (pushing it into October, weather permitting) to top up my woody mulch within the food forest rows.
What I used to do was go to the forest that's on my land with a tractor and trailer and pick up woody material from the forest floor. However, I quickly found out that it's not that easy to gather trailers worth of decomposed woody material.
Ideally, you want to gather dead logs, branches, and sticks that've been decomposing on the forest floor for two or three years, but the problem is you might need to drive far and wide to gather enough of these.
So, to get enough woody material year-on-year, I developed a process to streamline this as much as possible.
Here's the rundown:
Step 1. Find the source of the woody material on your land
---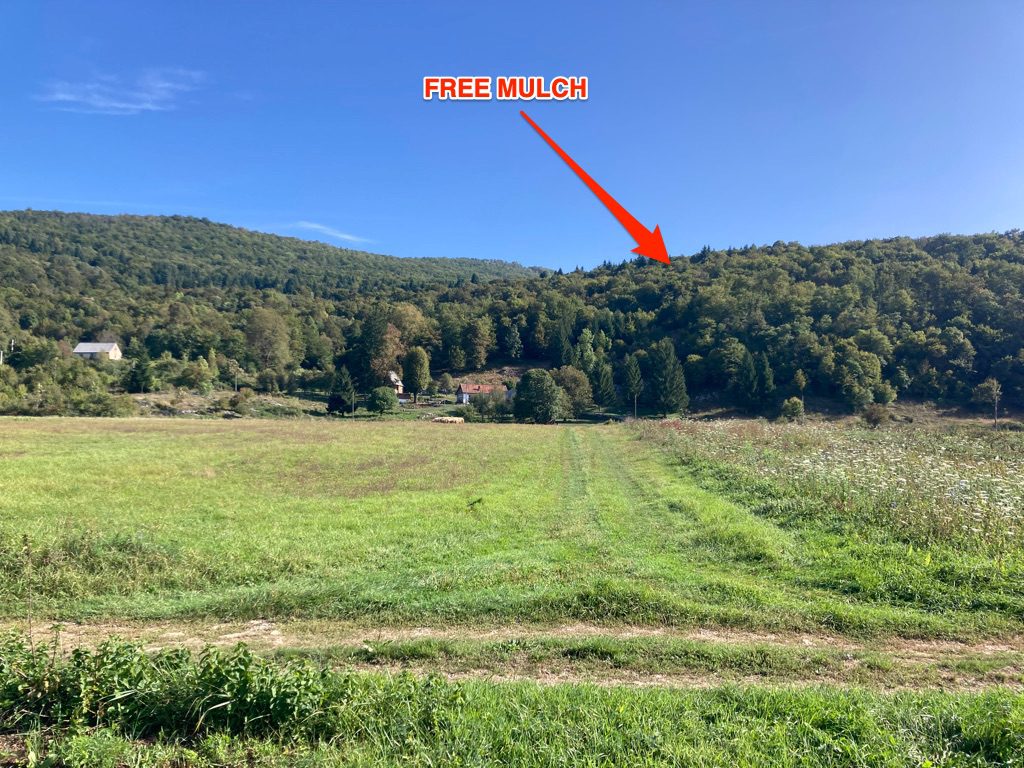 The first step in creating an endless supply of free 'woodchips' for your food forest is finding the source of the woody material.
This could be a forest, timber plantation, overgrown, unwanted vegetation on the edges of the property, woody regrowth from clearcutting, overgrown hedges and living fences, sporadic native trees and shrubs in the food forest, and other areas of your property.
Ideally, this woody material would be a byproduct of an activity you would be doing anyway, so making these woodchips doesn't become an additional task on your to-do list. These types of activities could include but are not limited to: cutting firewood, thinning the timber stand or forest regrowth, clearing the site in preparation for planting, maintaining/pruning hedges and living fences…
On my farm, every season, I either cut some firewood in the forest, cut back my hazelnut hedgerow, or cut down sporadic trees that are old and sick. So I always have something that I would do anyway that, in the end, results in surplus woody material.
Note that whatever you choose to do, make sure that you select the spot where when the material is ready for harvest, you can easily access it with a tractor and trailer or whatever other means of transport you are planning to use.
Step 2. Pile up the woody material
---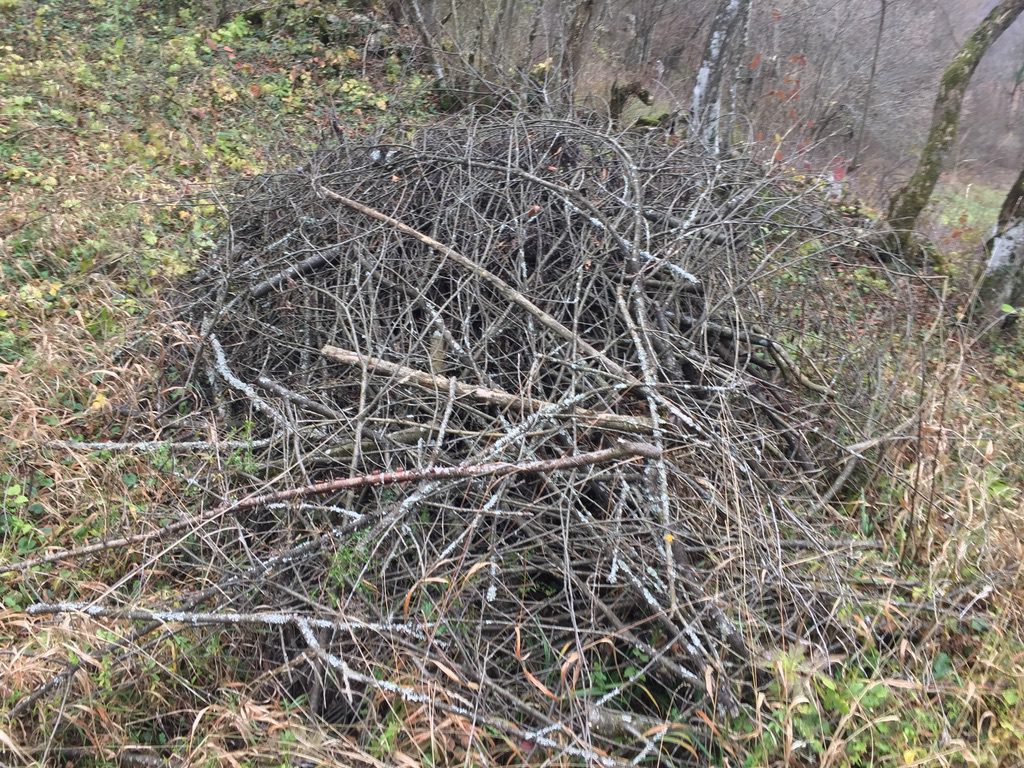 Now harvest the woody material by cutting it with a chainsaw, reciprocating saw, or loppers.
Gather the thicker parts of the woody material for firewood and leave all the rest for the woody mulch.
You'll want to collect an assortment of bigger branches, smaller branches, twigs, and even some logs (although they will take much longer to decompose, of course)
Find a shady spot nearby and make a sizeable pile. Ideally, this would be on top of the leaf mulch rich forest floor, but any shady location that will help preserve moisture will work.
Shade and moisture + microbial inoculant from the soil will facilitate quicker decomposition. So, the closer you can come to forest floor-like conditions, the quicker you can harvest your mulch.
Step 3. Cut the pile
---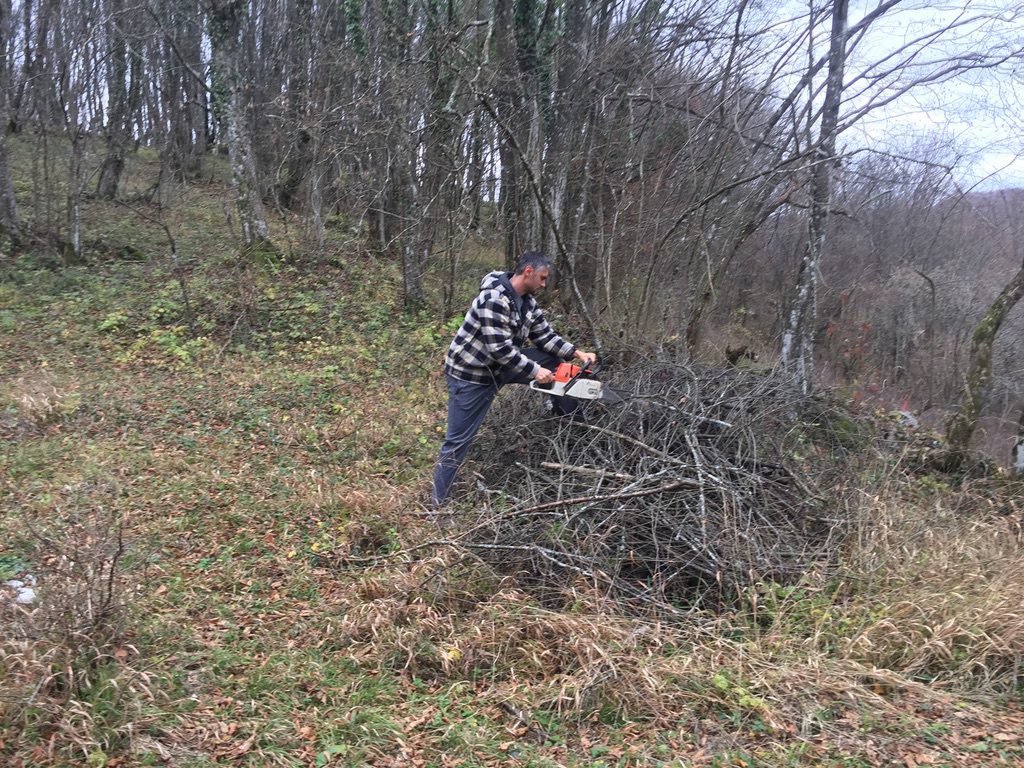 This step is optional, but it will help you speed up the process of 'maturation.'
What I usually do is cut through the pile multiple times with a chainsaw to make the woody material smaller, easier digestible for fungi, and quicker to decompose.
Just be cautious not to damage your chainsaw by cutting into the soil/rocks underneath the pile. I've done the learning the hard way, so you don't have to.
Cutting or no cutting, once in a pile, the woody material is now ready to start maturing.
Step 4. Allow for the pile to mature
---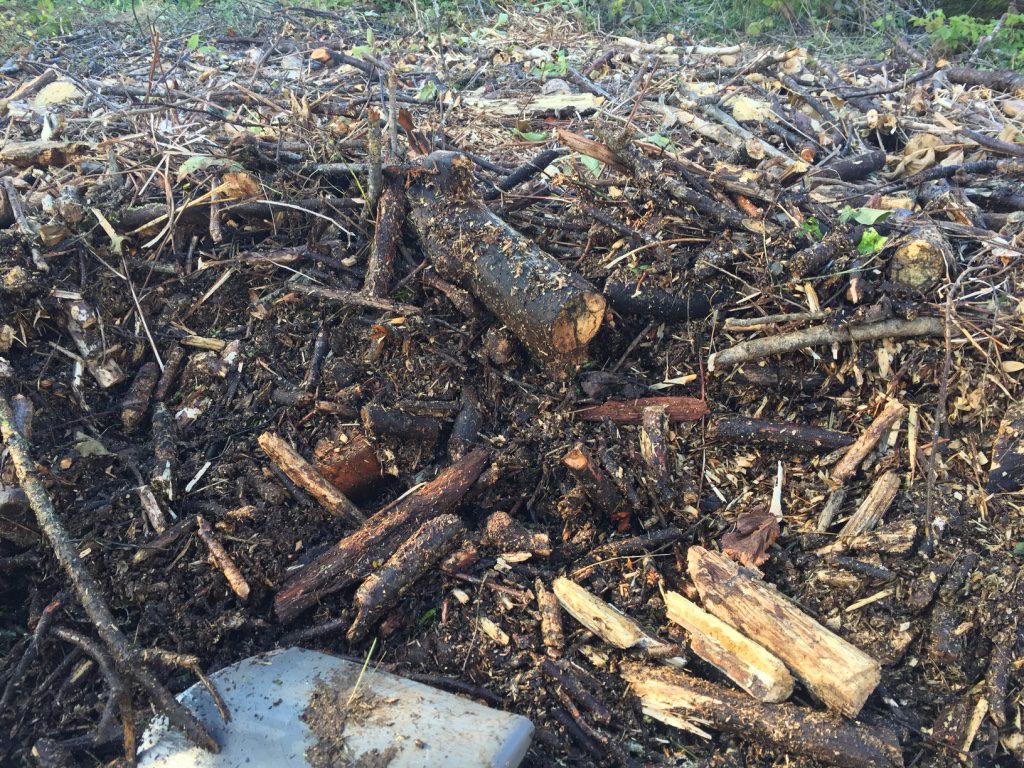 Leave the pile to sit on the ground for at least two years, preferably more. I usually wait for three years because I'm at the point where I have multiple piles going and always something to harvest, so I can wait a bit longer to mature.
During this 'maturation' time, the woody material gets 'infected' with fungi and decomposes, with smaller pieces starting to crumble.
The longer the pile is exposed to the environment, the more the bigger pieces start to crumble as well and become spongy and all.
After the period of maturation, you'll get a perfect assortment of woody material with sponge-textured bigger pieces, medium-sized pieces, woodchips, fungal duff, leaf mulch, plus inoculant filled with saprophytic fungi.
Step 5. Harvest the woody mulch and spread it in your food forest
---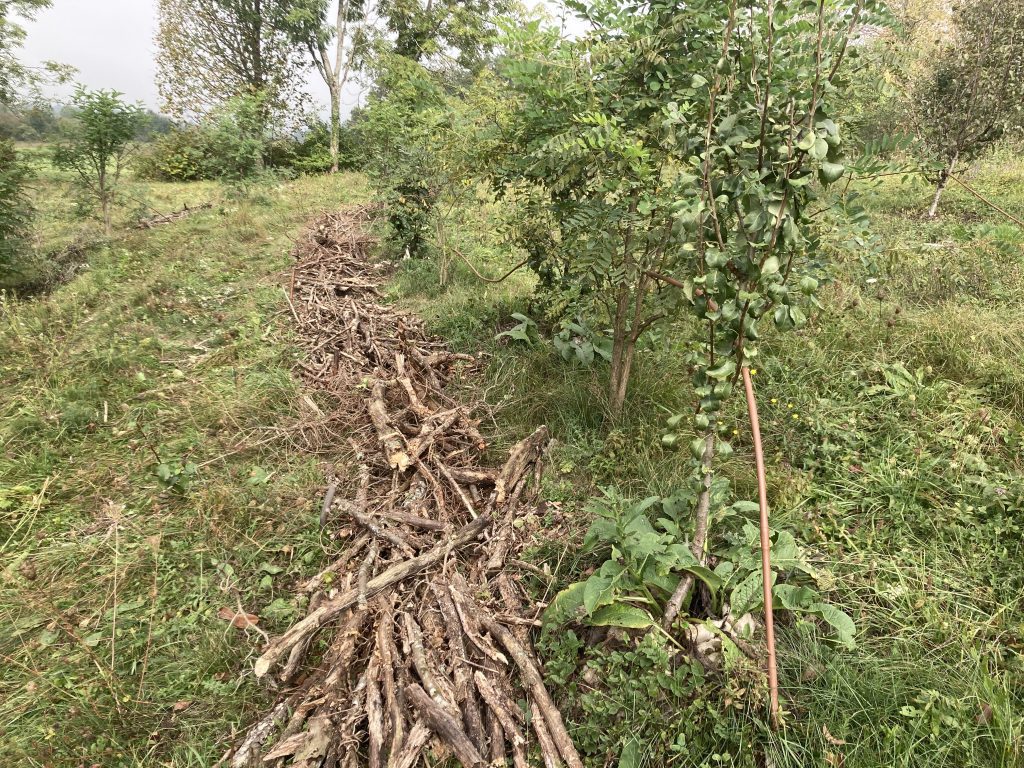 Now that material is ready, it's time to harvest it.
I usually gather it with my tractor with a trailer, but you can use an ATV with a trailer or even a wheelbarrow if there isn't much.
Load the woody material and take it to your food forest. Unload it as a mulch layer around your trees, within the rows, or place it on approximate contours to act as a check dam (helps to stop and pile any material moving down the slope, thus building soil even faster.)
Note that you always want to keep mulch off the stem of the tree; the organic mulches right up against the trunk of the tree will retain too much moisture and potentially rot the tree.
Step 6. Repeat steps 1 – 5 for continuous harvest
---
To stay ahead and not have to wait for 'woodchips' to mature, make sure that you start several piles at the same time. This will ensure that you always have something to harvest.
The ideal workflow is to cut woody material yearly as part of harvesting firewood, maintaining hedges/living fences, expanding the farming space… Then, make new piles for the next batch while harvesting the ones from previous years that have matured.
---
And bam, there you have it, (almost) zero-cost endless supply of 'woodchips'.
Sure, this method requires more forethought than simply ordering/getting delivery of woodchips. Still, it's a relatively easy way to get (almost) zero-cost premium 'woodchips' for your trees and shrubs, mainly because the woody mulch is a byproduct of the other activities you'll be doing anyway.
Hopefully, all of this inspires permaculture workflows on your property.
Keep me updated in the comments below.
Talk soon,
-William