With the current pandemic, the damage to food production and supply chains has already been set in stone. It's just a matter of time before the full effects of these unfortunate events trickle down to cause a shortage of food in your local area.
As a crisis gardener, you want to hedge against this by growing as many of your vegetables as possible. Ideally, you would be able to produce everything you consume within a whole year, but getting close to that ideal as much as possible is good enough.
With that in mind, in setting up your crisis garden, the first step is to have, at least, some idea about what you'll grow, and how much of it to be able to feed yourself and your family.
Once you know this, you can then more accurately plan the right amount of seeds and transplants you'll need and the required layout of your crisis garden. Without first crunching some numbers, you will most certainly resort to ad hoc 'planting as you go' all over the place, and thus growing an overabundance of some crops while being short of others.
You would be surprised how little space and plants it takes to produce an overabundance of nutrient crops such as fresh greens. The image below is a photo of my silverbeet bed in my mini-greenhouse, the bed is some 60 cm x 120 cm ( 2 ft x 4 ft).
Currently, it feeds three families; my own, my parents, and my cousin's. So some 9-12 plants in this small raised bed are enough to supply us + others with fresh silverbeet throughout the growing season. We would need another bed like this to get us through the winter months as there is no regrowth, but the point is we don't need to grow much silverbeet to fulfill our needs.
It's good to know this when you're setting up your garden and thinking about how many seeds/plants/transplants you'll need and how much space you'll need to dedicate to each crop. Getting this right saves you money on seeds, time, and labor on growing, and you get to use your gardening space more effectively.
So let me outline the steps to take if you want to plan your crisis garden the right way from the outset.
I'll describe each step in detail and, where applicable, link to various web resources to help you with your planning.
>>> Plug-and-Play Planning Resource: I've also created a supplementary spreadsheet to help you shortcut this planning process. In there you'll find I've done almost all the work for you. You can download it here.
STEP 1: Create three distinctive groups of crops
Start with the big picture and create three distinctive categories of crops so that you can classify your veggies according to their role.
These three big categories are:
Staple crops
Nutrient crops
Supplemental crops
Staple crops are the ones from which you'll derive most of your calories. These are reliable, easy to grow (low labor), and storable crops such as potatoes, squash, beans, cabbages, onions, etc. You'll grow these in high volumes, and they'll take a disproportionate amount of your garden space.
If push comes to shove you could survive solely on these crops; they are calorie-dense and provide you with the raw energy you need. However, although you'll be able to survive, you won't be able to thrive as you also need nutrients to be healthy.
Nutrient crops will fill that gap; these are greens such as kale, chard, spinach, arugula, etc. You'll be mostly harvesting these fresh, growing them year-round, and sometimes freeze-storing the surplus. For your own needs, you won't have to produce a high volume of these, nor will they take up much space, but they are nonetheless an essential part of your crisis garden.
Then there are supplemental crops. In this group fall all other crops that you'll grow in some capacity – either for fun, or as a taste supplement, as an experiment, or as an additional summer-/wintertime yield. This doesn't mean that they are not nutrient- or calorie-dense, but just that they are supplemental to the other two categories. These could be eggplants, melons, peppers, corn, kohlrabi, etc.
Action Item: None. I've already done this step for you. In the spreadsheet, you'll find that the first column is already split into these three categories – so you can just put a checkmark for this step and move onto Step 2.
STEP 2: Decide what you'll grow in each of the groups
Now you should select the crops you'll grow in each of these groups.
I've already alluded to what crops might fall in which category, but what they'll actually be all depends on your particular context. Here are some useful prompts to help you with making the selection. Think about these as you brainstorm.
What are the crops that you eat — Think about your eating habits and select the crops you like to consume.
What are crops that you can't buy — If you like to eat something, but you can't buy it at the store or farmers market, you can always grow it yourself.
What are the crops that save you money — Think about the most expensive crops you buy and then grow them.
What crops are new and exciting — You can always try something new; you might end up putting it on your "crops I like to eat and can't live without" list.
If you want to shortcut this crop selection process in the template spreadsheet I shared with you, there is already a list of the most common vegetables we all like to grow. They are already grouped to some extent, but you can move the rows around as you find appropriate given your personal preference and eating habits.
Action Item: Update Column C [Crop] on the spreadsheet with your preferences.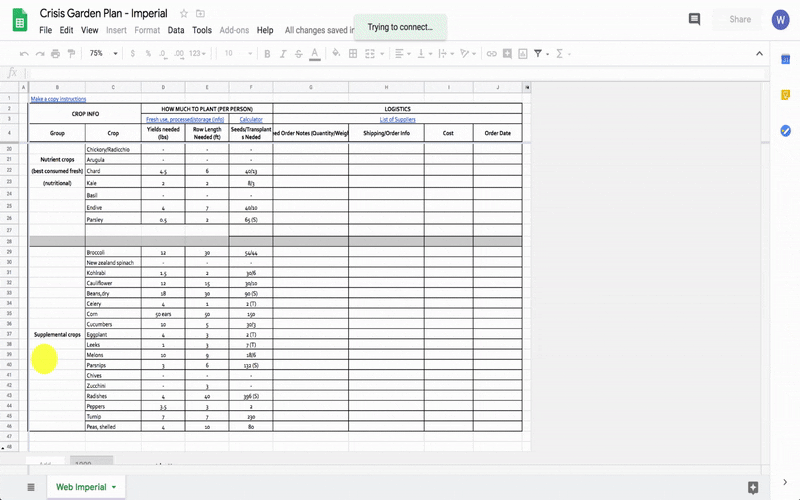 STEP 3: Calculate how much to plant (per person)
Now let's see how much of each vegetable you'll need to plant per person to have enough to last you for an entire year – both consumed fresh and preserved in storage.
This, of course, will depend on many factors such as your growing skills and technique, soil fertility, which vegetables you prefer, and how often you'll be eating it.
In reality, you won't exactly know how many vegetables to plant for your family until you've gone through several growing seasons. But it's good to get a sense of what some of the averages are so you can plan more accurately.
For example, if your family likes to eat potatoes, you'll need to grow 75 lbs (34 kg) of potatoes per adult to have enough for the entire year.
Given the planting recommendations for potatoes, this translates to a row 50 ft (15 m) in length needed to grow this amount. For a row of that length, you'll need to plant 75 potato seeds.
This is very useful to know before planning the layout and ordering seed potatoes.
There are two ways to calculate how much to plant:
Option #1: The long way
You can find the information about the amount needed in weight and garden space for the most common vegetables here in this table from Michigan State University: https://www.canr.msu.edu/uploads/files/Table%204.pdf
Then, once you have an idea of the row length you'll need to grow a specific vegetable, you can use this calculator from Johnny Seeds to find out how many seeds or transplants you'll need for your crisis garden.
Option #2: The shortcut
I've already done all these calculations for you in the spreadsheet. So no need to use any of the calculators to crunch the numbers or search the tables. You identified what you'll grow in Step 2, the numbers for this step are already in the spreadsheet so you can move to the final step.
So going through this step will clarify how much you'll need to grow in weight, how much space it will take, and finally how many seeds or transplants you'll need to source.
Action Item: None, put a checkmark for this step and move onto Step 4.
STEP 4. Source the seeds/transplants
In the final step, you'll first need to come up with a precise quantity for how many seeds or transplants you'll need for your crisis garden.
Think about how the numbers per person from the last step translate into the size of your family. If you have children, they probably won't eat as many as an adult. Also, some of your family members won't like particular vegetables, so don't just 4x the numbers if you have a family of four.
Make a note of the quantity or weight of seeds and transplants you'll need so that you can start searching for the suppliers with some exact figures.
For example, suppose you have a family of three adults, and you're looking to plant potatoes. To calculate how many seed potatoes you'll need to plant and order you would multiply Seeds/Transplants Needed (Cell F 11) x Family Members = 75 seeds x 3 people = 225 seed potatoes.
Action Item: Update Column G [Seed Order Notes (Quantity/Weight)] on the spreadsheet with your notes about the amount of seeds or transplants you'll need for your crisis garden.
Next, find a source where you'll buy your required seeds or transplants.
Now, I understand that at the moment it might be hard to get your hands on seeds, as people have been hoarding them big time. This hasn't happened here where I live, but in the US, many of the seed suppliers stopped selling due to the huge backlog of orders.
Since time is precious, I don't want you to waste it on endlessly searching the web for seed companies, so here's my list of reputable suppliers worldwide. Some of them might be out of stock, but I think you'll be able to find what you need.
I plan on keeping this database public, so please do add any reputable source of seeds you know of. Let's help each other out by sharing info.
Action Item: Update Column H [Source/Supplier] on the spreadsheet with the info about where you'll source your seeds or transplants. Additionally add any notes (cost, order date) if you've made the purchase.
---
With that, we're done with the initial planning. If you have followed all the steps and used the spreadsheet I provided you with, you should now have a pretty good idea of what you'll be planting, how much you'll be planting, and where to order your seeds.
In my next post, I'll talk about how to determine the ideal location for your crisis garden. Picking the right spot for your crisis garden is crucial to successful crop production.
In the post you'll learn how to survey your property and where to place your garden based on the site assessment protocol I've developed specifically for this purpose.
See you soon!
-William
(Visited 34,533 times, 4 visits today)