Sometimes, finding the right plants for your food forest can be frustrating.
What types of trees should be in your canopy layer?
What N-fixing plant should you use?
What types of shrubs will be suitable for your site?
In my earlier post, I outlined the 'habitat mimicry' approach to selecting plants for your food forest. In this design strategy, you use your native ecosystem as a model and, on this basis, create a food forest plant list.
This is the easiest way to win, as here, you're not inventing anything new; instead, you're copying what already works in nature. However, this approach is somewhat limiting in terms of what type of plants are at your disposal, and it does require some skill in reading the landscape.
So today, I want to outline another strategy for choosing the most suitable plants, one where you'll have more flexibility, creativity, and freedom to choose what you find appropriate. Plus, you can create a food forest plant list in minutes just by sitting in front of your computer.
This strategy is usually referred to as a classic approach to plant selection – choosing plants based on the specific purpose/function/niche in space they need to fulfill. For example, food production, nitrogen-fixation, pollinator attraction, pest control… canopy, shrub, or groundcover layer…
For this to work, you'll have to have a basic understanding of your site's context: climate, microclimate, and soil conditions. This will help you to narrow your search quite effectively.
Now, there is an easy way to search, and then there is the hard way. Let's skip the sweat and tears of Googling, exploring the various forums, and getting lost in the endless research, and go straight to the best resource for this type of query – the Plants for the Future Database (PFAF).
PFAF is a fantastic free online plant database with information on over 7000 edible or otherwise useful plants, including their origins, place in succession, edibility, and medicinal uses. This comprehensive directory is ideal for finding potential plants to grow and a fantastic resource for any plant geeks.
Moreover, the number of ways in which you can search for information is overwhelming (in a good way), including by Latin or common name and by plant family, habitat, or use. Each plant listing includes plenty of useful information about the plant and where to source it.
To demonstrate how useful it is, consider the plant properties you'll need and your site conditions and do a search.
Let's take a look at one example. Say you need a nitrogen-fixing shrub that would fit nicely between your tall canopy nut trees and provide them with fertility in the early stages of their growth.
You know that you're in zone 7 according to the USDA Hardiness Zone Map, and that your soils are alkaline. In addition, your climate is somewhat prone to droughts, meaning your plants would need to be drought-tolerant.
So how would you go about searching for this kind of shrub? Let's take a step-by-step look at the process:
Step 1. Open the PFAF homepage
To begin with, open this link and you'll be presented with the Database search page.
Now, I know that the sheer amount of information and choices available can look a little intimidating at the outset, but having the ability to search based on all these properties is very useful as you can narrow down the results significantly to the most suitable plants.
So the more criteria you have, and the more checkboxes you check, the more relevant results you'll get.
For now, let's just focus on the basic properties we are looking for.
Step 2: Tick all the boxes you need
So, in our example, we have a general idea of what we need – our criteria is a shrub, hardiness zone 7, nitrogen fixation, tolerance to droughts, and alkaline soils.
Now, let's perform a search for these types of plants and tick all the necessary boxes.
Step 3. Do a search and get your results
Once you perform a search, you'll be shown a page based on your query, with a numbered list of plants that might be suitable for your given conditions.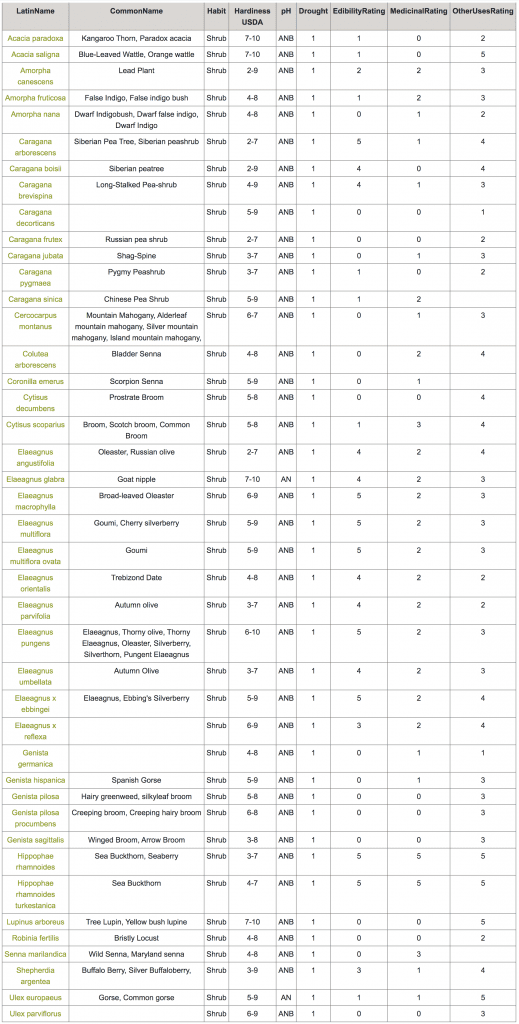 As you can see from the image above, we have many interesting plants from which to choose.
Results include the Siberian pea shrub (which Geoff Lawton likes to use), Russian olive (favored by Martin Crawford), Goumi, Silverberry (Michael Judd's favorite), Autumn Olive, and Sea buckthorn (Ben Falk's plant of choice).
Step 4: Choose the most appropriate plants and create your food forest plant list
Now click on the name of each plant and find out more about its characteristics. This is well worth doing because you'll want to read up on each plant and how it might fit into your food forest.
I suggest that you then copy the information you find into an empty spreadsheet. The spreadsheet should have some key information about the plants with the links to the PFAF page for your future ease of reference.
Here's an example of mine that I've been populating for some while.
It has five main columns: Layer, Name(s), Function(s), Size, Cultivation info. You can download this template here to save yourself some time making it from scratch.
Once you enter all the key info into the spreadsheet, you'll have your list of N-fixing shrubs that will potentially grow well in your climate and can tolerate occasional droughts.
Having done this, you rinse and repeat for any other plant functions you can think of that you'll need in your food forest, and you'll end up with a master list of plants!
In summary – how to create your food forest plant list
If you are planning your food forest, and need plants that will fulfill a specific purpose, then use the PFAF website for your research.
Step 1. Go their website
Step 2. Tick all the boxes you need at the Database Plant Search Page
Step 3. Do a search and get your results
Step 4. Choose the most appropriate plants and create your list
With the list in hand (or on your computer), you'll know exactly what trees, shrubs, and other perennials you'll need to source from nurseries or by propagating from cuttings, growing from seeds, transplanting from the wild.
Talk soon,
-William
(Visited 5,633 times, 4 visits today)