---
Tall order? Read on and watch me *demo* it.
Earlier this week, I showed you what designing the whole farm layout looks like, and now I'll zoom in on one aspect: designing a food forest with swales.
5 minutes for Part I, 15 minutes for Part II, and DONE!
Part I: Determine if swales are a viable water management option for your terrain (5 min)
Part II: Design the layout for your food forest (15 min)
Food forests, in the context of the current and coming world events, are of pivotal importance for any permaculture farm or homestead. They supply us with an abundance of fruits, nuts, medicinal plants, and other resources so we can be more self-reliant and have peace of mind that no matter what, we'll eat plenty and healthy.
They also provide us with a beautiful, non-toxic, natural environment, a sort of sanctuary where we can run away from the everyday madness and spend time with our loved ones, immersed in the natural world…
…chewing on an organic apple, observing wildlife, enjoying peace and quiet… Coming crisis or not, who wouldn't want that in their life!
But how to make that dream a reality?
Part I: Are swales a viable option for your terrain?
Well, if you want to design a food forest with swales on your property, there are a few things you'll need to know about your site before we start with the process:
You can only install swales on gently to moderately sloped land (below 15% slope).
Any steeper than this, and you risk blowout from too much water buildup, overflow, and soil destabilization. If your slope is steeper than 15%, you would have to use terraces, and they'll act similarly to the swales in harvesting water on level ground.
Checking slopes across your property isn't hard. You can do it on the site with your smartphone, but I'll show you an easier way.
All you need is the Google Earth desktop application and 5 minutes:
Step 1. Open Google Earth and locate your property
There is no need to go outside on the land and investigate slopes in person. Just fly outside virtually using the Google Earth search function.
Enter your search term and zoom in on the property.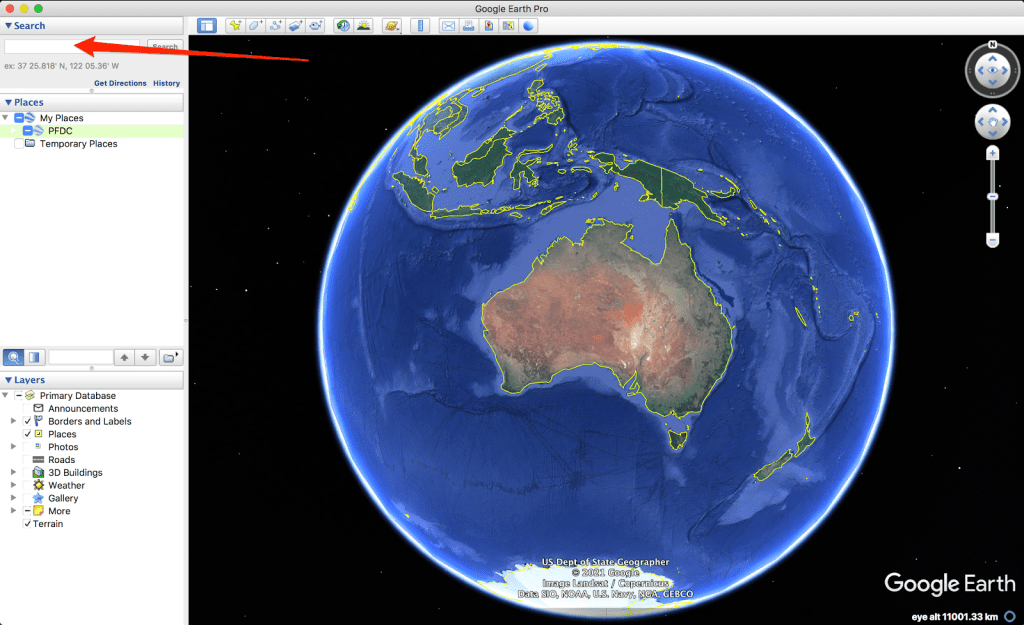 Step 2. Draw a straight line with a ruler
Now looking at the landscape of your property, try to move around and zoom in to get a feel for the slope orientation so you can see what's the best direction to slice through it.
Click the 'Ruler' tool on the Google Earth toolbar (1) and switch to the path tab (2).
Draw a straight line across the property (3).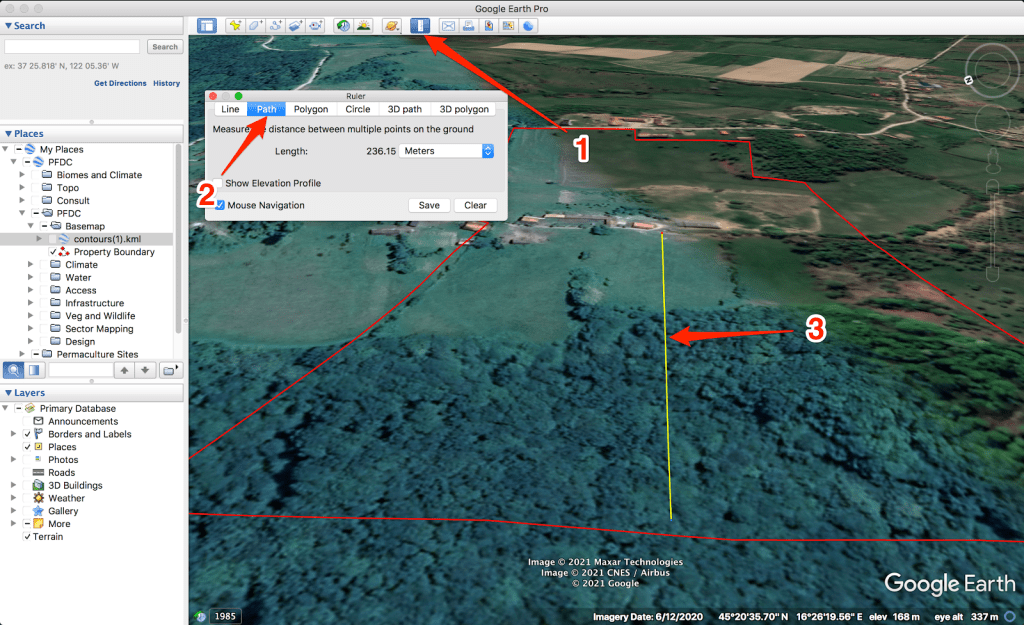 Step 3. Show elevation profile
Check the 'show elevation profile' option to show the elevation profile of the path you just drew.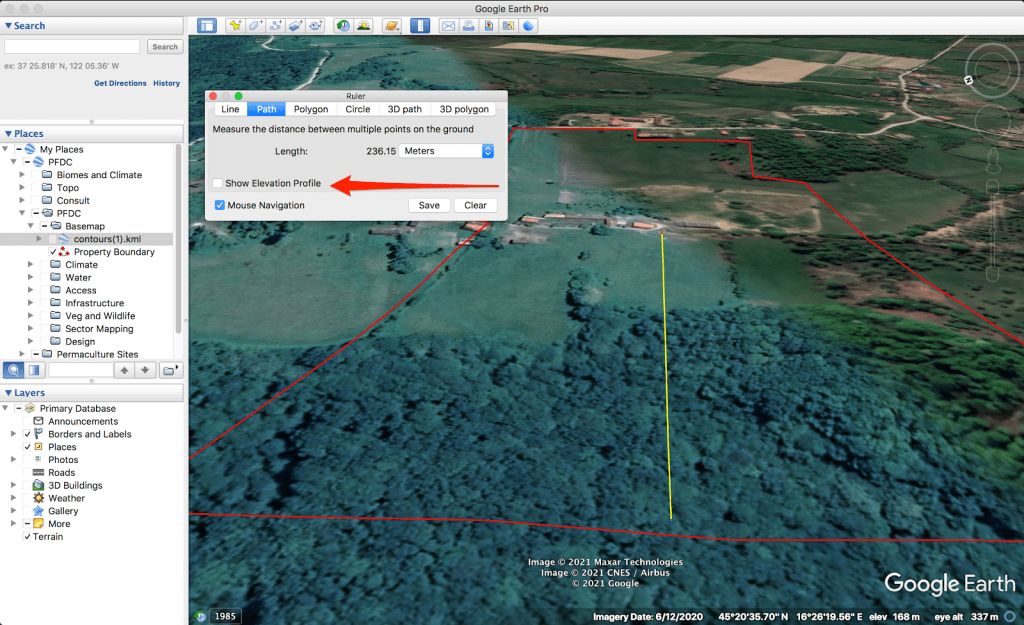 Step 4. Assess the slope
Hold your mouse over the elevation profile. It will show a red arrow on the map marking the location and also display the height above sea level and the gradient at that point.
Look at the 'avg slope' value to understand the steepness of the slope.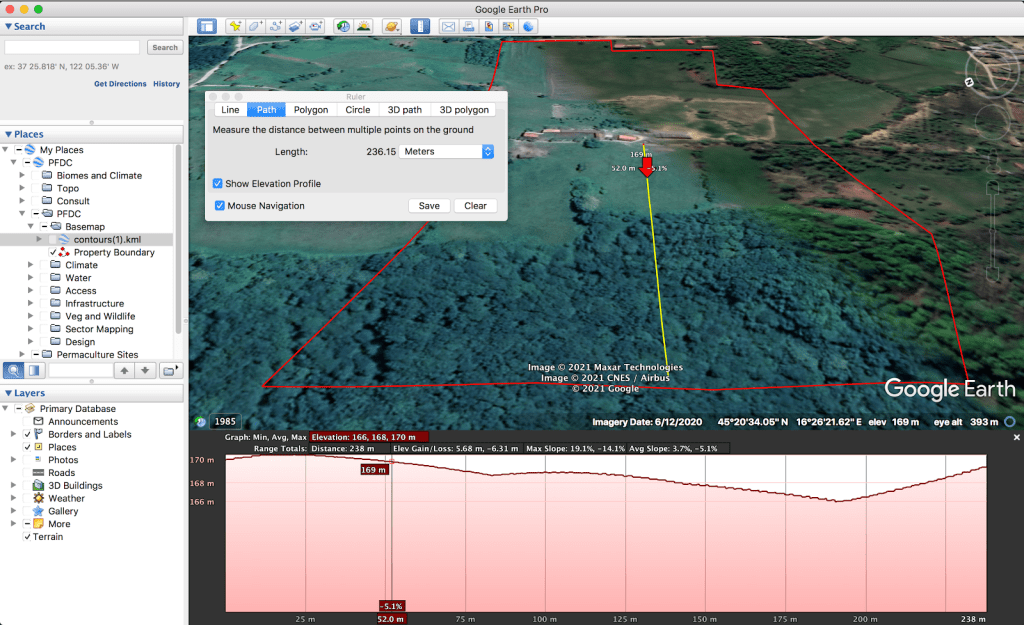 Note: In some cases, the elevation profile is too short to show the value of the average slope. In that case, use the formula (Rise ÷ Run) x 100 to get the slope value. For example, elevation gain/loss (rise) might be 15 m and distance 200 m, 15/200 * 100 = 7.5%
See, that was easy!
Now, after you professionally gauged your slope in this way, you'll see if you meet the below 15% slope requirements.
If so, you can install swales just about anywhere in that area where you find them necessary.
(I'll outline how to do this below, in Part 2 of this article, where we'll look at the exact design process of how to create a layout for a food forest with swales.)
If not, you need another way to start growing your abundance of fruits, nuts, and medicinal plants, such as using the Permaculture Orchard method, which is one of the things my Permaculture Farm Design Course will teach you. (Enrollment opens on Monday, 05 June 2023)
Check out what actual students have to say about my Permaculture Farm Design course…

"IF YOU CAN'T AFFORD THE TIME OR MONEY FOR A FULL ON PDC THIS IS DEFINITELY THE COURSE TO TAKE!

"Permaculture Apprentice Farm Design Course by William Horvath – If you can't afford the time or money for a full on 2 week PDC this is definitely the course to take. He breaks everything down step by step in layman's terms. Even after I had already taken 2 PDC's there was still so many things I didn't understand. Not because they weren't explained well mind you, but because the information was so massive and overwhelming that I couldn't absorb all of it at the time. William's course is organized in a way that makes it manageable so you can apply it to your own land. – Smith M.

"EXACT INSTRUCTIONS AND STEP-BY-STEP APPROACH. GREAT TO COMPLEMENT A PDC TOO!

" I like your course as an adjunct to Lawton's, particularly the exact instructions of how to make the base map and all the layers from various websites etc. – I've never seen anyone else do that, and I very much appreciate it. I also appreciated the step by step approach, and it encouraged me to really think harder about what my goals really are for this property. – Roz K.

"PERMACULTURE DOESN'T FEEL LIKE A MYSTERY ANYMORE. I FINALLY FEEL A SENSE OF 'I CAN DO THIS'! SO EMPOWERING!

"I do feel a sense of "I can do this" finally! I first learned about permaculture 20 years ago, and it has continued to feel like a mystery in many ways–and I have felt like I needed to depend on experts other than myself–to do design. so this is so empowering! – Patricia M.
Part II: The exact design process for creating a food forest layout that uses swales
In the last step, we determined whether swales are a viable option for your terrain given your property's slope gradient. If your terrain is suitable, meaning the slope is gently to moderately sloped (below 15% slope), you can proceed to part 2 of this design process.
To give you an idea of how the layout of a food forest with swales looks like, here's the final design.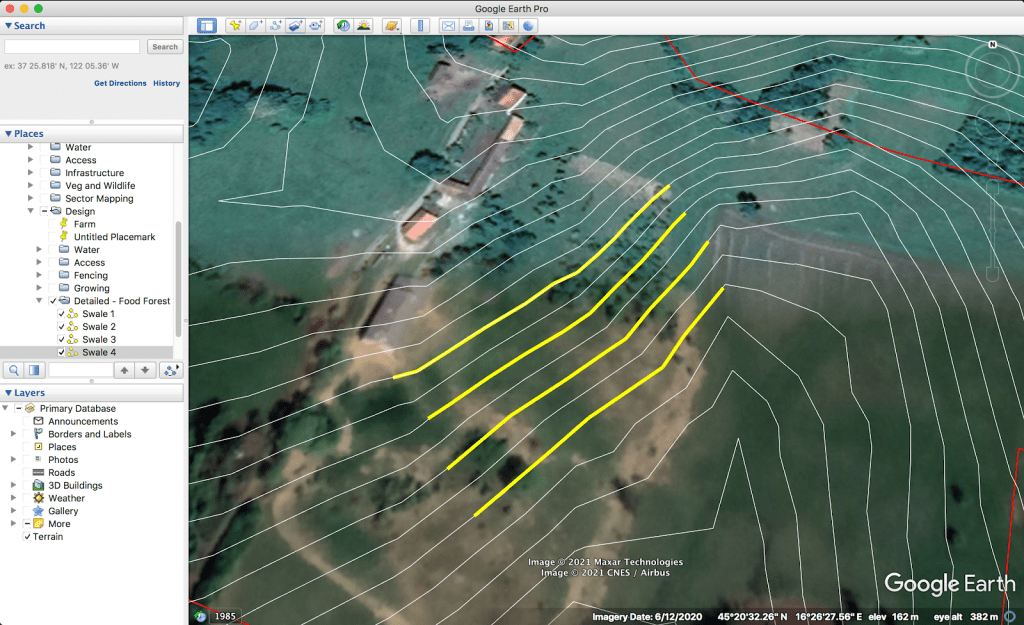 What you're looking at is a series of rows following the contours of the landscape, separated by approximately 15m distance, outlining a skeleton of the future food forest. This layout is ready to be "transferred" to the site itself, and then the on-site implementation can start.
Now let's reverse engineer the steps required to get to the final ready-to-be-transferred-to-the-site design. Again we'll use Google Earth for this and do it in 15 minutes.
Let's start.
STAGE A. Import a contour map into Google Earth
Swales are on-contour ditches, so to design them, we need a map that outlines the contours. Since we are using Google Earth for the design, we need Google Earth to show contours overlaid on top of its aerial/satellite view.
In case you already have this contour layer in Google Earth, you can skip this part, but if you don't, I want to show you the easiest way you can do this.
STEP 1. Locate your property on the Contour Map Creator website
Open the http://contourmapcreator.urgr8.ch/ website in your browser. There you'll find a free web app that lets you generate contours for your property at the click of a button.
Now zoom in on your property, use the search bar, and then your mouse to center the map with your property in the middle.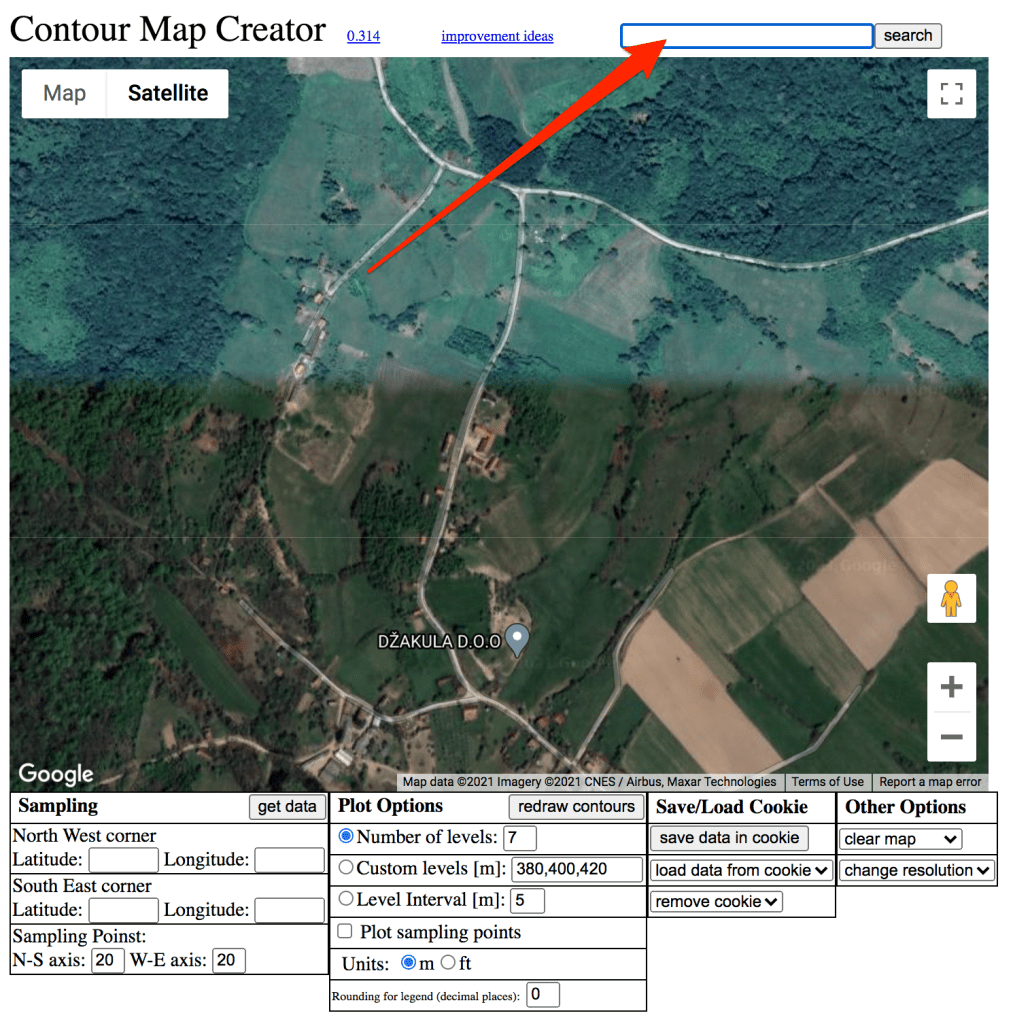 Note: Don't zoom in too much as you're also trying to get the overall picture of the topography surrounding the property.
STEP 2. Draw a sampling area
Mark a rectangle by adding two pins onto the maps. Put one pin in the corner and the other in the opposite one.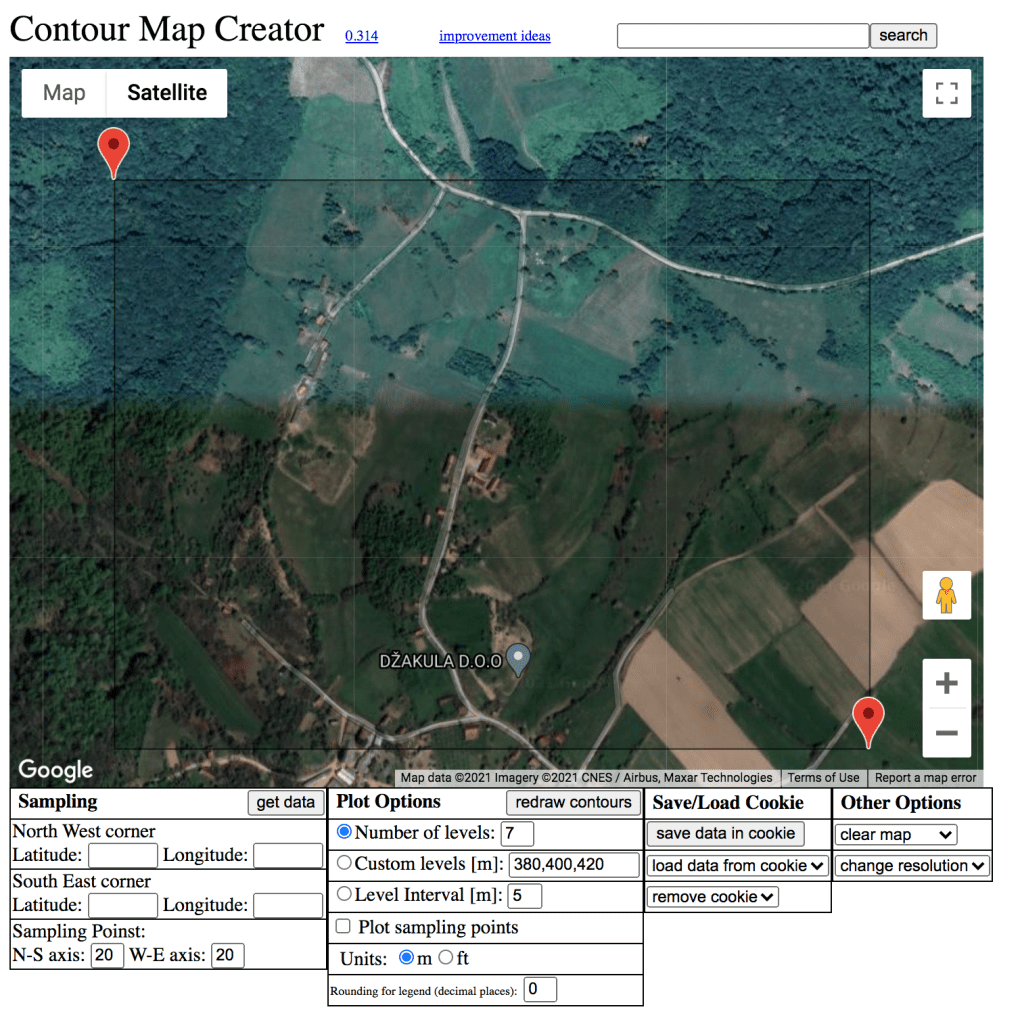 STEP 3. Get a contour map
Now adjust the plot options, check the level interval option, and put in 5m/15ft (or less). This determines the resolution of your contour map; in this case, you'll get a contour map with contours every 5m/15ft.
Click the 'Get Data' button under the sampling tab – and the app generates a contour map for you.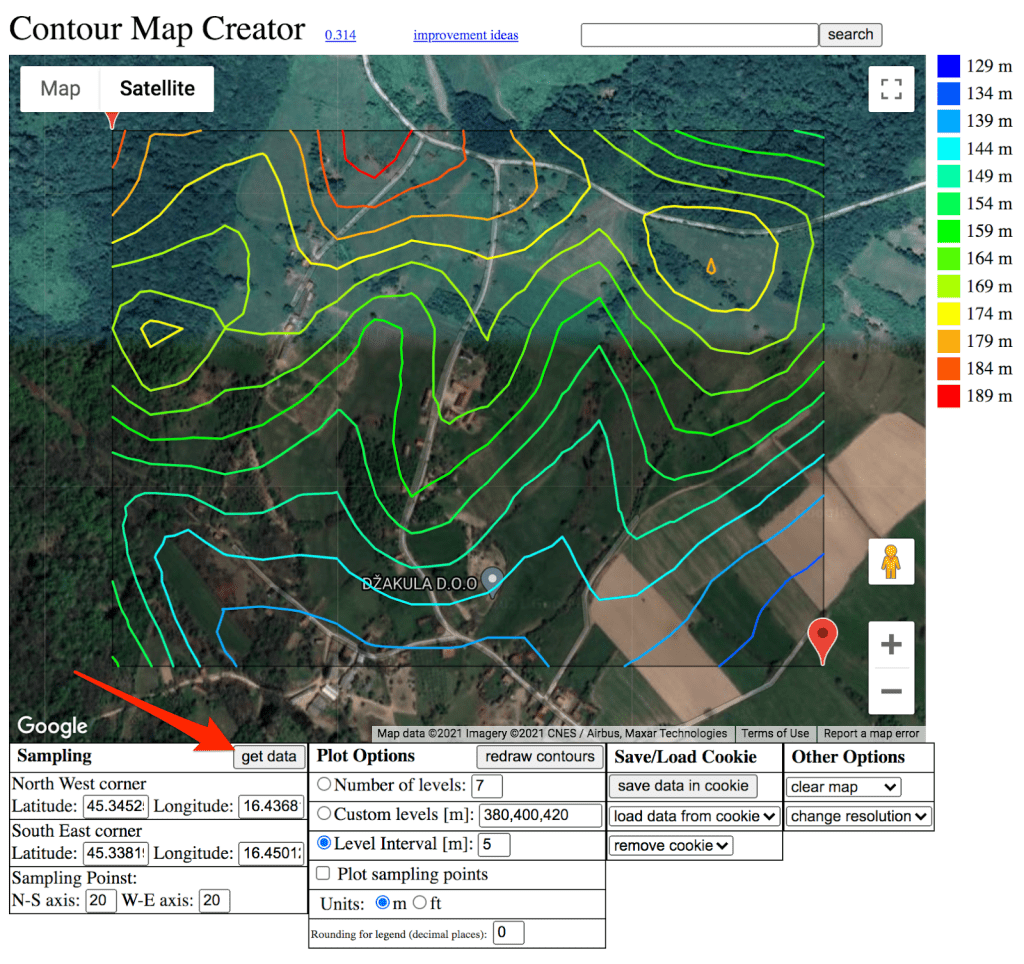 STEP 4. Import the contour map into Google Earth
Scroll down and press 'Download KML file'.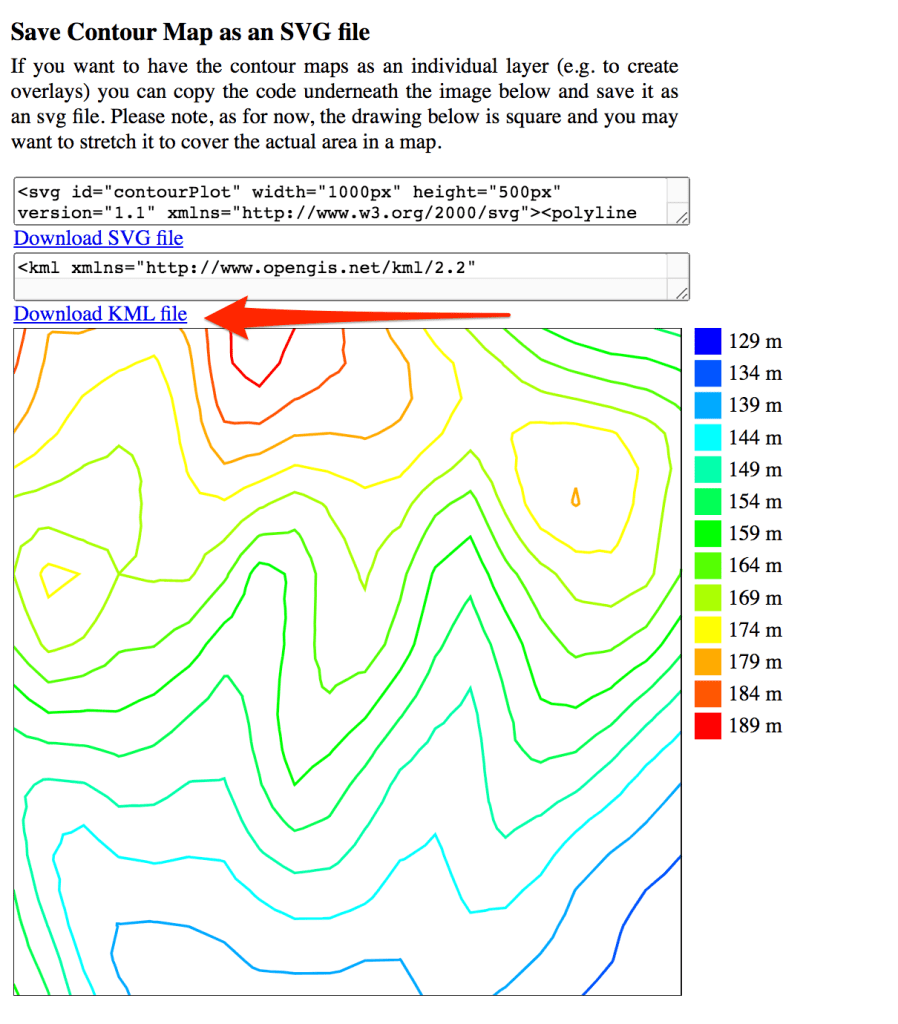 Now locate that file in your download folder and open it in Google Earth. When you launch the application, it will automatically zoom in onto your property and you'll have contour lines overlaid on top of the satellite photo background.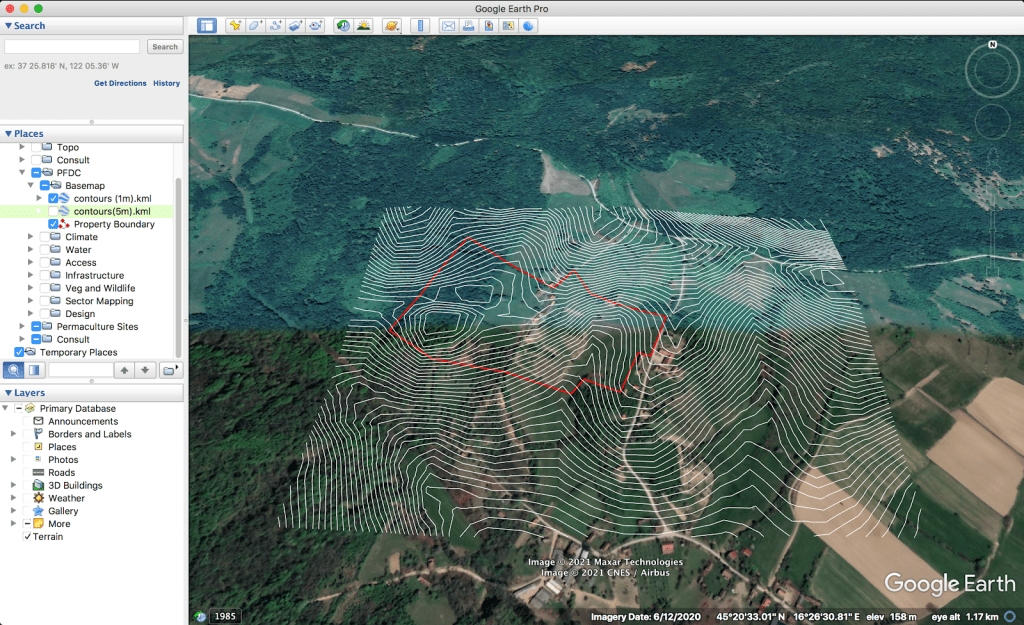 Note: If Google Earth doesn't automatically take you to the area with contours, you might need to enable the newly imported 'Contours' kml file in the sidebar under the Places bar.
STAGE B. Outline swales
Now with the contours visible on top of your landscape's aerial view, you can proceed to design your on-contour ditches, a.k.a swales, that will outline the layout of your future food forest.
STEP 4. Mark the first reference contour on your map
Zoom in to the area that you want to transform into a food forest and first mark what I call a 'reference row'. This will be the initial swale you'll use as a starting point for your layout design.
It's good practice that this first swale is at the highest point of the area of interest.
This is a very important principle of harvesting water, as this way you slow the flow as soon as possible. Otherwise, the flow might cause erosion before it gets to your swale further downslope.
Look at your map and try to find the longest contour line at the highest possible elevation.
Click the 'Add path' tool on the Google Earth toolbar (1) to draw a 'swale line' following or on top of the contour line (2).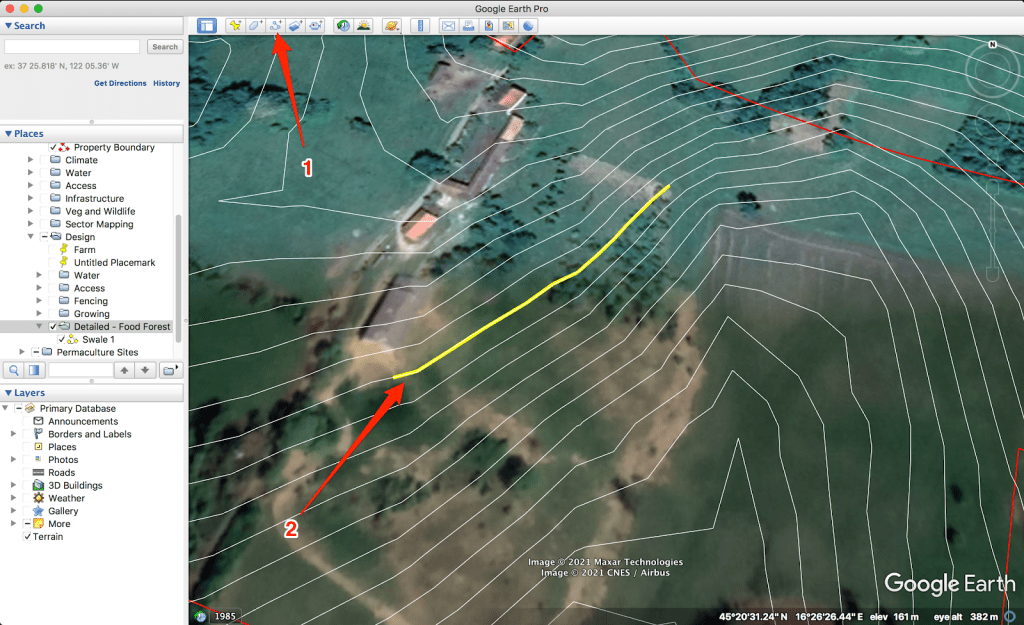 Note: Where you begin and end your swale is entirely up to you. In most cases, the restrictions of the surrounding landscape (access, property boundary, fencing, etc.) will be your guide.
STEP 5. Decide on the distance between the swales
If you plan on having more than one swale, you'll need to determine how far apart to make them. This will depend on your site goals and rainfall and runoff conditions, but the overarching rule of thumb is: the greater the runoff, the closer the swales should be spaced.
Generally, it will be 5 – 20 m (15 -65 feet). But again, the greater the runoff, the closer the swales.
For example, on steep, overgrazed, or disturbed land, you will be confronted with large volumes of fast-moving sediment-laden water in intense rainfalls, so you should place your swales at close intervals. On gentle slopes covered with thick native grass, the watershed can absorb more rainfall before significant runoff begins, so you'll need fewer and more widely spaced swales.
Also, the swales should be more closely spaced at the top of a hill than toward the bottom, as the top of a hill is the driest part of the landscape that drains more rapidly and thus needs more rehydration.
STEP 6. Create the final layout
Now, based on the desired distance, mark the remaining swales, going down the slope from the initial swale.
Click the 'Ruler' tool on the Google Earth toolbar (1) and switch to the line tab (2). Measure the desired distance to the next swale (3).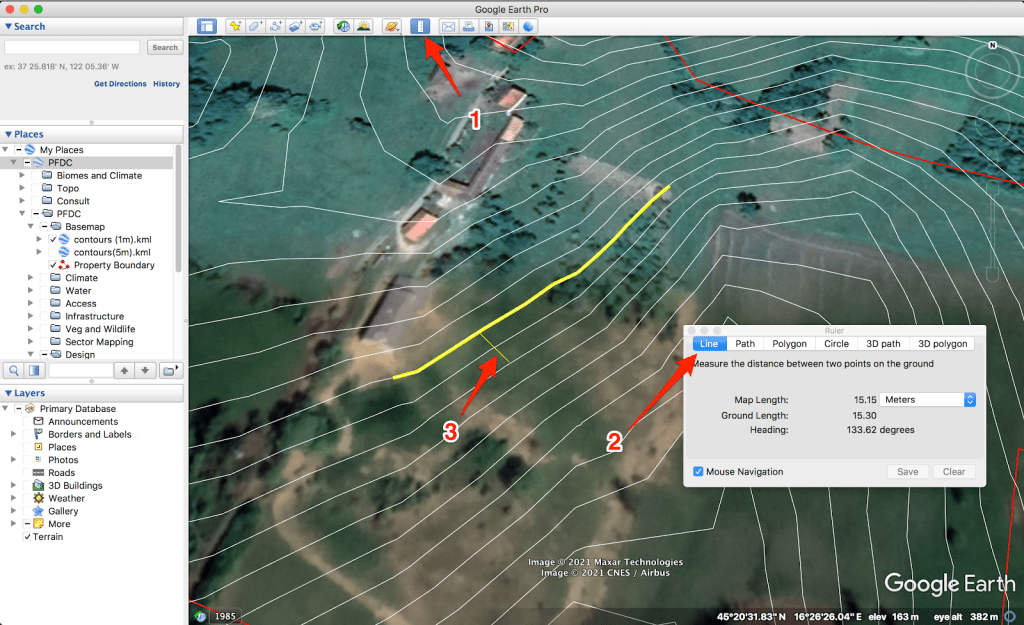 Click the 'Add path' tool on the Google Earth toolbar (1) to draw a 'swale line' following or on top of the contour line (2).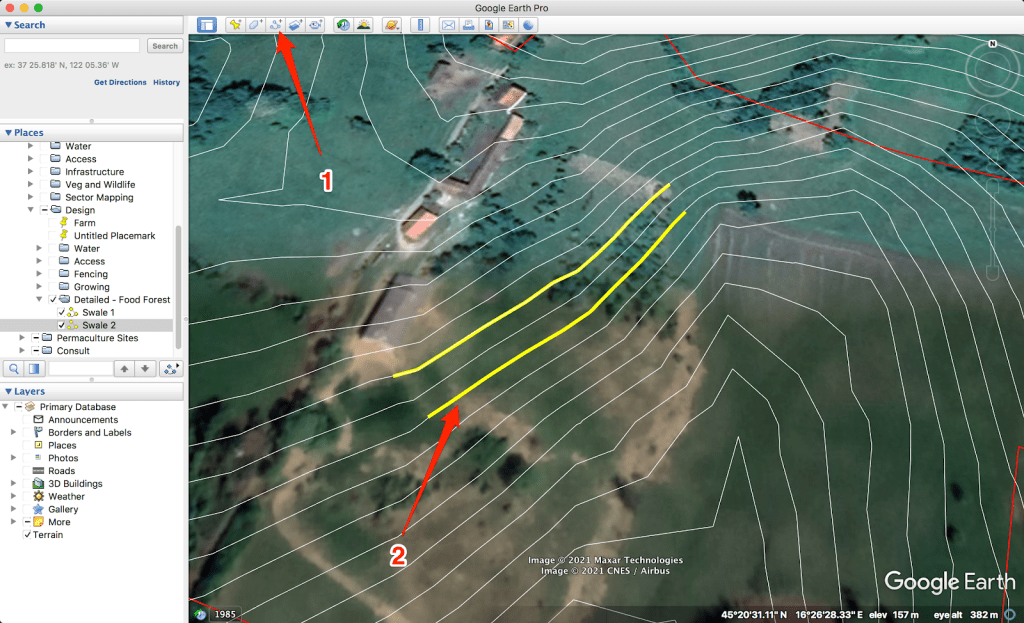 Repeat measuring the distance (A) and drawing swale lines (B) until finished.
Now you have a final food forest layout with swales.
Ok, so in 15 minutes or so, you have something you can work with.
With this layout in your hands, you can now go to your site and crash-test the map against the territory:
Save your work on the desktop app version of Google Earth, open the file on the smartphone version of the app, and visualize your layout as you walk around the site.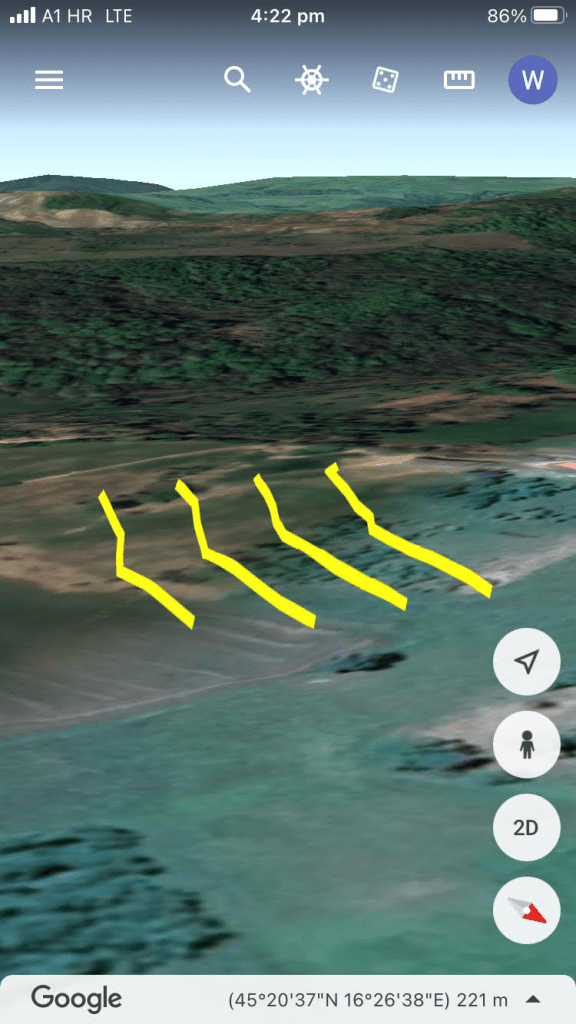 The layout won't be perfectly accurate as the contour map Creator isn't the most perfect tool for the job. Still, it will be good enough for you to start implementing and moving your project forward in real life (without investing a fortune into professional design software!!)
At the end of the day, all that matters is tangible results on the site, as we don't have time to waste. We need to establish our food forests, permaculture orchards, gardens, agroforestry crops, and pastures as soon as possible to ensure food security and peace of mind.
In my Permaculture Farm Design Course, I provide detailed step-by-step tutorials on designing all these permaculture systems.
And as you can see, you don't need any special design skills, computer software, or hours of dedicated time.
Just clever techniques like this which are specifically designed for owner-designers with limited time & budgets!
I'll be opening the course for enrolment this Monday, 05 June 2023, so keep an eye on my next email with the subject line "A masterplan for your site (Introducing: Permaculture Farm Design course)".
-William
(Visited 11,958 times, 1 visits today)