There is one thing that always makes my head nod with approval like this…
It's when I see an older person planting chestnuts, walnuts, and other long-growing trees, knowingly leaving them for future generations.
In my book, that shows selflessness and responsibility toward a better future. It reminds me of that Greek proverb: "A society grows great when old men plant trees whose shade they know they shall never sit in."
Now, although I'm in my early forties and thus still relatively young, I'm very much aware that there are no guarantees that I'll live long enough to see any of the trees I planted to reach maturity. I hope to sit under their shade and eat the fruit and nuts they bear – but I don't take that for granted.
That's why I don't see the trees and shrubs I plant just as merely providing for my own or my family's immediate needs. I also see it as a legacy for my grandchildren and fulfilling my part of making a planet better for generations to come.
Suffice to say, the simple act of tree and shrub planting makes me feel good when I look at what I've just set in motion. Half a day of 'hard work' for what might be years and years or even a century of benefits for people and animals.
That's a permaculture principle of 'make the least change for the greatest effect' in all its glory…
Since I have been planting trees and shrubs recently, all these thoughts are still fresh in my mind, so today, I wanted to share how I go about it.
Certain things make the methods I use a little different from anything you might have read so far, and that's why I call it "planting trees and shrubs, the Permaculture Apprentice way."
Let me outline this method for you: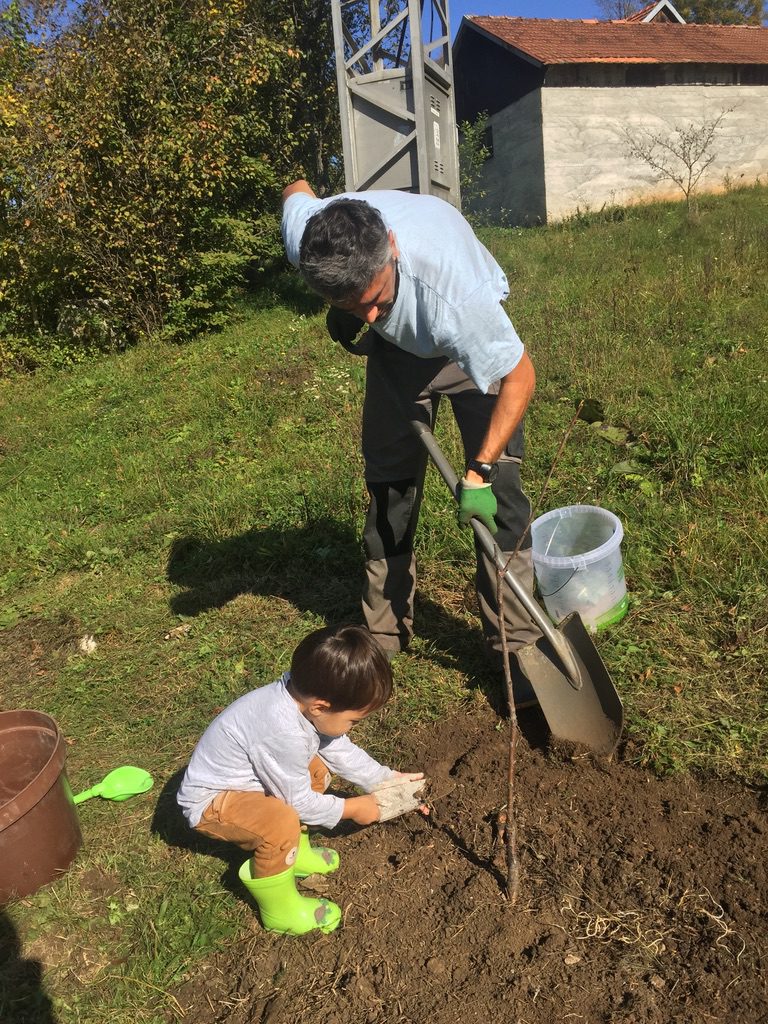 STEP 1: Prep the trees/shrubs
First, grab an appropriately sized bucket, fill it with water, and then add a small amount of kelp extract and molasses.
Remove your plants from the container or, in the case of bare root stock, unwrap the roots and soak them in this solution for at least 20 minutes.
This will help reduce transplant stress since kelp and molasses are rich in micro-nutrients, and trace elements and fungal hyphae in the surrounding soil will be encouraged to rapidly connect to the sugary-sweet roots.
Even better, soak the roots in a bucket of kelp/molasses solution the night before planting. But make sure not to leave the roots soaking for more than 24 hours.
If your soil seems lifeless and you worry it has no fungal hyphae, don't fret. We'll remedy this in the steps to follow…
STEP 2: Dig a proper hole
Now dig a large enough hole. Aim for it to be as deep as the root system but at least twice as wide.
The undisturbed soil under the tree/shrub prevents undesired settling, and the loose soil zone at the sides helps the plants to start spreading their roots and grow more easily. If you don't make it easy for them in the beginning to penetrate into the surrounding soil, they may end up circling.

As you dig, check the hole depth and ground level – test it out by putting the plant into the hole. You want to make sure that you keep the graft union of your trees above ground level at 4 inches (10 cm). Otherwise, the union will establish its own roots if buried, which overrides the desired rootstock effect.
STEP 3: Apply mycorrhizal fungi/indigenous micro-organisms to bare roots
Next, you want to sprinkle mycorrhizal inoculant into the hole!
The fungal allies can increase the effective root zone of a young tree or shrub by hundreds of times in a matter of weeks.
Commercial fungal inoculates are readily available, but there is also something much better; soil from a healthy and local forest ecosystem.
Go to your local forest and find a WILD fruit or nut tree, depending on what you're planting. That tree, or better said, the soil surrounding the tree, has mycorrhizal species that are suited to your bioregion.
Get a small amount of topsoil taken from the root zone. When digging, the closer you get to the roots, the better.
Add this magic stuff to your planting hole!
STEP 4: Add soil amendments and backfill the hole
Unless your soil is really poor, you don't need to add extra materials to the planting hole, especially if you're planning on using mulch or cover crops as a soil management technique.
On the other hand, if your soil is poor, and most abused soils are, sprinkling the bottom with a little rock powder – rock phosphate (for early root development) and the same amount of Azomite (for trace nutrients) – will be okay.
Even better, sprinkle this stuff on the dug-out pile of soil, then as you backfill, it will all get thoroughly mixed out.
Ok, so refill the hole with the soil you took out.
Try to backfill in layers, carefully firming the soil with downward pressure now and then to ensure you're filling in all the voids so there are no air pockets, as they can block root growth.
STEP 5: Add thick layers of mulch – cardboard + fungal compost
Finally, add a thick layer of mulch to knock back sod intrusion, ideally for several years, while simultaneously feeding the tree roots/microorganisms.
First, use thick layers of newspaper or cardboard (1 m2 minimum) to cut off light to any competing plants that may still be capable of coming back into the immediate area around the tree-planting hole.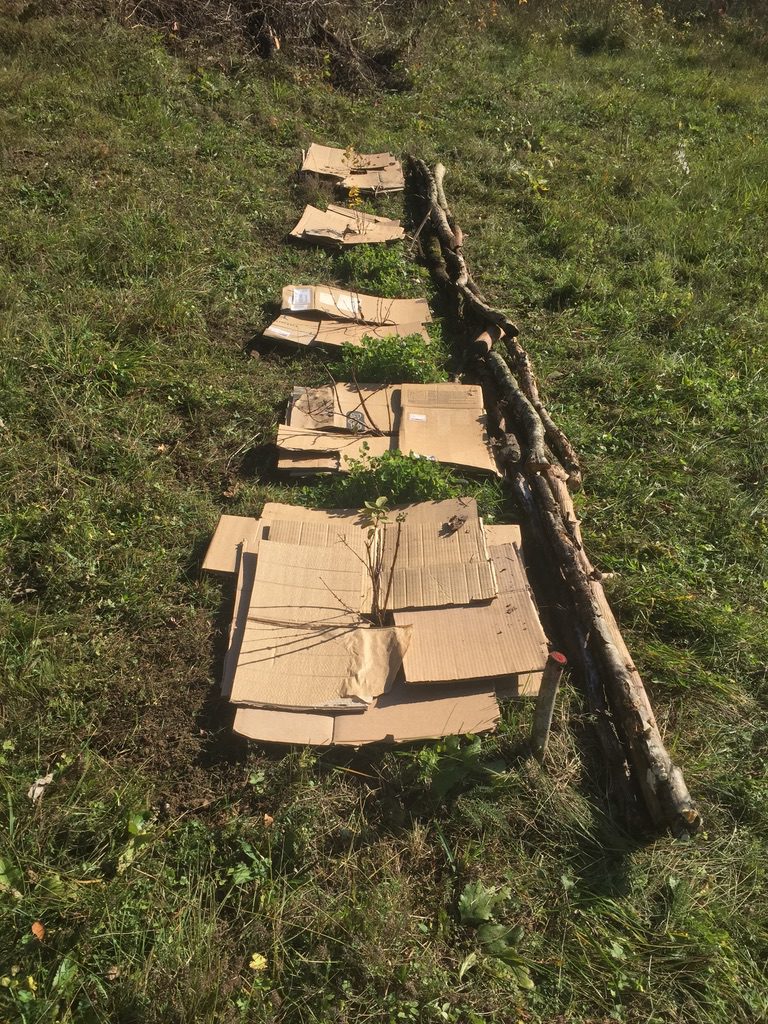 Then top dress with (~10 l/2 gallons) fungal compost. The imperative is to create and sustain fungal conditions for the trees and shrubs.
…but not just any fungal compost. Use the rich forest floor fungal compost. We strive to recreate a local forest soil ecosystem to help your trees and shrubs grow better.
Go to the forest and try to find piles of decomposing wood, branches, wood chips, leaves…
Grab this fungal duff and spread it around your trees and shrubs.
That's it. Now grab a drink and reflect on what you just did!
---
There you have it, planting trees and shrubs, the Permaculture Apprentice way.
If this method piqued your interest and you want to learn more about using native fungi to improve your food forest soil quality, check out this blog post…
In closing, I hope you'll use the guide and put it to practical use because, more than ever, we need trees and shrubs in the ground and some significant regenerative action.
And remember, one day, your kids, grandkids, and whoever comes after them will appreciate your efforts!
Happy planting,
-William
(Visited 6,178 times, 5 visits today)