Do we need trees? Of course…
How about rainforests? Stupid question!
What about coral reefs? Hmm…
We all know that we need trees and rainforests, otherwise we wouldn't be able to live, but coral reefs, they aren't so important for us as a land-dwelling species, right?
However, the truth is that what rainforests are to the land, coral reefs are to the sea. In fact, we could say that individual corals perform a similar role to the trees in the forest. They are a fundamental part of a huge ecosystem taking up roughly a quarter of the ocean.
Now, based on current trends, these 'rainforests of the ocean' are well on the path to extinction and, within the next 30 years, most of the world's coral will be gone. Yep gone, like gone, extinct, nada, nothing left (except maybe a few tiny remaining patches to remind us of our folly)…
This die-off is (mostly) due to bleaching that's caused by rising sea temperatures. This is a result of the symbiotic algae that feed the coral dying off due to heat, causing the corals to bleach (disintegrate).
The corals do recover seasonally but, with ever-rising temperatures, reefs have less and less time to recover, leading to these dire predictions as global climate change progresses. This may be a very gloomy statement but, unfortunately, it's true.
The impending ecological disasters
Recently, as my wife and I watched Chasing Corals, the true horror of this barely reported event unfolded before our transfixed eyes. At one point in the documentary, it was claimed that 29% of the corals in the Great Barrier Reef died in 2016 alone.
After this shocking revelation, my wife – who was lucky enough to visit the Great Barrier Reef – turned to me and said: "I think you should visit the Reef while it's still alive so you can tell stories about it to our children."
I can't explain it, usually I handle these doomsday predictions reasonably well, but, at that moment, I got a lump in my throat as I came to realize the magnitude of what she was saying.
As much as the story about coral reefs is disturbing, corals are just the canary in the coalmine. They're just one of many endangered ecosystems on the path to extinction.
We're currently in what scientists call the Holocene-Anthropocene mass extinction event, all happening on our watch and giving us a front-row seat of the events unfolding around us.
Anthropogenic climate change is just one of the (synergistic) drivers of this mass extinction.
While we're arguing over who has the most accurate information about human-induced global warming, and are divided even within the permaculture community, the climate is still changing and species are still becoming extinct at a worrying rate (some estimates go as high as 200 species per day).
This is all thanks to our constant environmental destruction and unsustainable resource depletion – something I'm sure all of us can agree upon.
It's the synergy of all these effects that's causing this ecocide and if we continue with business as usual we indeed are on a path to mass suicide. Everything on our planet is connected, and with each collapsed ecosystem we're pulling one more card from house of cards and one day we'll pull enough of these cards that the whole thing simply collapse.
And you know what the worst thing about all this? It's the fact that most people, namely 95% of world population, are totally oblivious to what's taking place around them. You could feed them the last coral reef crab and they wouldn't even care, notice or comprehend what that means for the Earth and its inhabitants.
Now, to be honest, you can't blame them for it, most of humanity is living in cities, disconnected from nature, eating food that's grown in nutrient-depleted soils, with chemical toxins in our environment every step of the way, from the personal care products we're using, to the water we're drinking, the things we're wearing, and even the air we breathe…
It's no wonder that when someone who still eats proper food, tries to minimise toxin exposure and is able to use his brain for more than pretending to have a good life on social media has eco-anxiety and is worried and about the future and the potential collapse that it might bring upon us.
The collapse is not coming, it is already well under way
Now, I know collapse is a hard concept to swallow but, as I described in my previous rather lengthy post, I believe we are indeed already witnessing such a tipping point. In fact, if pressed for a quote, I'd say "The collapse is already here, it's just not evenly distributed yet."
Rather than a single apocalyptic incident, the collapse is unfolding over decades, accelerated by sudden disruptions/shocks (ecosystem collapse like coral reefs is an example of just one of these shocks).
Maybe, looking back, it will all make sense one day, but for someone living through the collapse it just looks like any other day because we simply adjust to whatever disruption happens (extreme heatwaves, flooding, increasingly regular economic crises,…), and call it normal.
Because, after a while, it does become the new normal, and move on with our lives and day-to-day struggle of putting food on the table, chipping away at that mortgage, paying those rising bills, while not even being aware of the big picture in which our small reality bubble is situated.
Now, because one cannot unlearn this understanding of 'OMG the collapse is already upon us', there is the question how to deal with all this uncertainty about the future and what we can do about it today.
So, for the sake of practicality and not merely being a prophet of doom, I'll outline how I deal with this knowledge and the resulting anxiety it gives me…
How to deal with (eco-)anxiety and create a more resilient life
Focus on what is within your control and influence and worry less about everything beyond it
Honestly, there is a lot to be concerned about today, and the environmental aspect I covered just now is only one part of the whole story. Merely spending your energy dwelling on world issues and getting angry about things you can't change is not good for you.
The world around you, it is what it is. The events that happen, they are what they are. Unless you have direct influence over them, you can't do much about it… and no amount of worrying is going to change that fact. All of this is situated within your circle of concern, where you have little or no control at all.
What you want to do, in contrast, is to focus your efforts towards where you can make a difference to the things you can influence. You can decide which issues these will be and what to focus upon, and you can let others handle the rest.
So for example, if you're not living in the tropics, and coral reefs are not in your 'backyard', and, most importantly, you've decided you're not going to get actively involved in the issue of coral bleaching, then all this is in your circle of concern. For this issue, unless you get some form of masochistic pleasure from worrying about it, you're wasting the energy you could be using in places where it counts…
In places like your backyard, village, town or region, you can do a lot to influence things and make a small difference that, cumulatively, will add up to a big one. So, yes, you should worry a lot about that local council of yours wanting to eradicate "invasive" food species with Montsanto's weed killer that's going to pollute the whole ecosystem where you live. And yes, you should do something about it because this is within your circle of influence, and you can really make a difference here.
Do something every day that moves you towards greater resilience, and set your bar low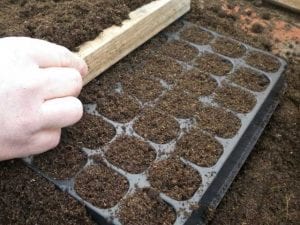 Now I know it's easier said than done: "Oh don't worry about climate change, peak oil, nuclear war, pandemics, constant terror attacks…" I'll be first to admit that, by default, I often catch myself dwelling on things situated outside of my circle of control and influence. It happens regularly and probably does to everyone, no matter how good they are at "managing the circles".
But here's the deal, you got to do something about this… I found that the best way to deal with this is to acknowledge this stress and concern, welcome it as a reminder that I should be working on building my resilience, and make use of the energy this stress gives me, instead of wasting it trying to manage the stress itself.
As Chris Martenson notes in his insightful book Prosper: "Anxiety lives in that space between what you know you should be doing and what you're actually doing" and by being proactive and building your resilience you'll feel at ease because you're actually doing something about it.
For example, I focus on five basic categories in my daily resilience building: anything that has to do with water systems, infrastructure, growing or storing food, the farm economy, and expanding my social network and capital.
Each day I try to make progress in one of those areas, whether it's just learning about building water filters, buying a quality durable tool, sowing some vegetable seeds, or creating additional income streams by expanding my permaculture nursery.
Everything counts and everything is a new learning opportunity to develop my resilience, no matter how small the task at hand is. The important caveat in all of this is to set your bar low as, frequently, you won't have time to go deep on something. For me, a simple copy-canning when I go to a grocery store is a win for that day, as I've done something to ease my mind when I hear the news about a potential nuclear war.
Build inner resilience and learn to be comfortable with being uncomfortable
We humans tend to continually manage our environment to suit our zone of comfort. If it's hot outside, we turn up the AC and make it 20℃ in the house, then we sit in our cars and make it 20℃ again. Finally, we come to the office and again make it 20℃.
If it's cold we turn the heating on, and create an unnatural, tropical climate if we feel like it, just because, well, we can and don't like to experience discomfort.
We humans have become so used to being comfortable that, at any sign of discomfort, we immediately feel bad. We're not comfortable with skipping meals because we expect we should have breakfast, lunch, dinner, and assorted snacks, or else we're ready to kill someone for food.
When things break and there is no running water in the house, it's the end of the world as we know it, because how do you flush that toilet, or cope without light, heat or the Internet?
Think about it, if there is a disruption to our comfortable way of living, how well would you handle it? Could you live without running water for two days or without hot water for a while, or would you break under pressure, setting a really bad example to your peers and kids? Well, the truth is most people today are weak mentally and unable to live with discomfort or uncertainty, and that's not resilient at all.
I sincerely believe that deliberately pushing yourself to experience that discomfort is going to help you to deal with all the stress, anxiety and uncertainties that might be just around the corner tomorrow. And I'm not saying that you have to be a SEAL-fit type of an individual, although that would help enormously, just simple small things of deliberately placing yourself in uncomfortable situations and enduring the unpleasant feelings of pain and discomfort.
For example, sometimes I would fast, deliberately skipping meals, and honestly in the beginning it was uncomfortable, but now I easily forget that it's lunchtime and that I should be eating, and even whether or not I've eaten. Sometimes, especially during unseasonably hot weather, I will go outside during the hottest part of the day and shovel some dirt. Why? Because it will increase my pain threshold, thus everything below that threshold becomes easy for me.
Also, by putting yourself deliberately into the situations you fear (no hot water, no running water, no lunch, $2 dinner only…) you'll realize that, if this is what you most fear, you'll be fine when things get, literally and metaphorically, sticky in the near future.
Be grateful for the abundance you DO have today
Now, I know that, merely by being aware of all these increasingly severe predicaments humanity faces, it often becomes hard to stay positive about the future. Expecting collapse and being practical about preparations really doesn't go hand-in-hand with any 'the future's bright' perspective on the world.
The truth is, as the saying goes, collapse or no collapse, "If you're anxious, you're living in the future" You can do your best to prepare and plan for an uncertain future, but then just go with the flow and try to enjoy your productive life. 
It's not like you're being fatalistic or burying your head in the sand, you're just making all the preparations you need for whatever the future holds, while enjoying your life knowing you're making a positive difference.
You know, often we go through our lives constantly worrying about the future, feeling anxious and forgetting to enjoy what we already have. We are so fixed on the future that we forget to appreciate the good things we have today and sometimes we simply need to remind ourselves about the abundance we already have in our lives.
Now, abundance might mean different things to different people, but I'm talking about simple things like a bountiful harvest of beyond organic vegetables from your garden, a source of fresh clean water from a nearby spring or creek, untouched nature teeming with wildlife, or simply spending time with your friends and family.
So I encourage you to think about what abundance means to you. Once you've come up with few things, you'll see that your life is probably already abundant. All you have to do is focus your attention and be grateful for things you do have instead of what you don't.
Connect with others and start to construct a parallel system
Honestly, we all know that there are a lot of flaws in our current system within which we, at least in the West, operate.
The whole thing rests on the premise that everything must grow exponentially, and if it's not growing then it's crashing and we all suffer. As I outlined in Part 02 of my lengthy posts, where I highlight possible future disruptions, there are many challenges that lie ahead of us.
That's why I've concluded that we need to build our own parallel system to, if not rival or deny, then at least partially supplement and influence this existing one.
Each of us can do something at our own local level. We cannot simply look to our governments and expect the solutions to come from the top down. Their sluggishness, incompetence and general desire to retain the status quo, means that everything moves at what used to be termed glacial speed.
Working with your friends, neighbors and others from your local community is the best strategy for changing something and creating the system in which you and your families can live healthy, productive lives. There are an increasing number of tools we have at our disposal for creating these alternative/virtual/parallel systems, and there are already some promising projects developing. We just need to learn how to work together toward the common goal of greater societal resilience and making Earth healthy again.
I also believe that when we do experience a major disruption and ordinary people start to suffer economically on a massive scale, a parallel/alternative/virtual system that works, helps and cares for everyone involved will start to look much more attractive, and will enact change on a wider level. Today, we might be considered a bunch of hippies living off the land, tomorrow, however, we'll be a community that everyone wants to join.
Trying to persuade others that their way of life is wrong and they should change doesn't work. Sharing apocalyptic warnings on Facebook doesn't work, people tend to move away from the source of discomfort and simply tune out.
But you know what really would change someone's mind? Seeing that someone else is genuinely 'living the good life', being healthy, happy, having enough to share, and enjoying a deep social connection and meaningful work.
That's the sort of language people understand because they hope they can do the same. That's why I think we have the responsibility of creating a parallel system, not just for our selfish needs, or just for our families, but for a better society of tomorrow that others can join, so the balance of power starts to turn in our favor…
In conclusion
If you're like me and sometimes have a hard time ignoring all the negativity around us, try to focus your attention on what is within your control and influence. Your efforts matter.
When you do feel anxious, make sure you actually do something that day that moves you towards a more resilient situation. Set your bar low, so low, that doing small things is a win for the day.
Understand that to be really resilient and capable of handling things, no matter what happens, you'll need to build inner resilience and be comfortable with being uncomfortable. Tools and gadgets are great, but your brain is the ultimate tool that needs sharpening daily.
In all of this, don't forget to be grateful for the abundance in life you DO already have. It's easy to be fearful, but we need reminding to be grateful. So, when you feel bad or down, reflect on the good things you have in your life.
Finally, one of the most important components of resilience is a community. Connect with others and start building a parallel system that will ensure you and the people around you have a good life, no matter what happens on the world stage.
Okay, so how do you handle the negativity on a day-to-day basis? Let me know what you think in the comments below!
(Visited 5,542 times, 1 visits today)