If you are looking for land then you'll know that, from a permaculture perspective, there are many factors that you need to consider.
One of these factors, which ranks pretty high on the scale of importance, is the slope of the land.
For permaculture purposes, a sloped terrain is very desirable, as it creates a lot of opportunities in terms of water retention systems, gravity potential, topographic protection, variety of microclimates…
This is not to say that a flat terrain is necessarily something to avoid. A flat landscape is more efficient for farming, and overall everything is easier to set up. However, it definitely misses out on the abovementioned diversity of opportunities.
In an ideal world, you would want to find a property that has the best of both worlds – some flat terrain and some slopes of different aspects and steepness. That's the best possible option for a permaculture site.
In reality however, unless you are looking at bigger and more rural properties, this might be hard to find. In most cases the terrain will be much less complex, having one general slope type (aspect and steepness).
In that situation the ideal is a gently sloping terrain, up to 10% grade. In going beyond 10%, you could be doing yourself more harm than good.
A steep slope like that will make everything harder; you'll have less arable land, and it will be more challenging to cultivate with machinery, you'll have difficulty moving around your property, and overall everything will be harder to install.
The difficulty factor increases as you move closer to a 20% grade, and once you get over 20%, the general recommendation is just to leave the slope under permanent vegetation and don't touch it at all.
Of course, you could make it work in a steep terrain – people have been living on and cultivating steep slopes for ages – but from a permaculture perspective where we are trying to make our lives easier by being smarter than ordinary folks, it's not what we should be striving for.
EXCLUSIVE FREE RESOURCE: download a complementary property assessment guide with step-by-step instructions on remote slope assessment via Google Earth.
How to evaluate a slope – Google Earth Elevation Profile hack
Okay, so now that I have made the case for having a slope on your future property, and outlined a slope range to look for, let's see how you would evaluate the property for this factor.
There are two ways you could do this; remotely using topographical maps and online tools, and on-site, with surveyor tools (a smartphone would suffice in today's world).
Checking everything in person is great. However, for getting the general feel for the slope and being able to quickly eliminate the property if it's too steep (or too flat), there is no need to arrange inspections, take a day off, and drive to visit the land yourself.
Instead, all you need is the Google Earth desktop application and 10 minutes of your time.
Here's how
Step 1. Open Google Earth and locate the property in question
First, use the Google Earth search function and enter the address of the property. Once you hit the search button, it will automatically take you to it, giving you a bird's eye view of the location.
Step 2. Zoom in and find the slope
Next, you'll have to zoom in and move around to get a feel for the terrain shape and slope orientation. This way, you'll see what's the best direction to slice through it using the measurement tool (hold the Shift key, click and drag to rotate and tilt the view).
You'll want to position the "camera" so it faces directly up or down the slope.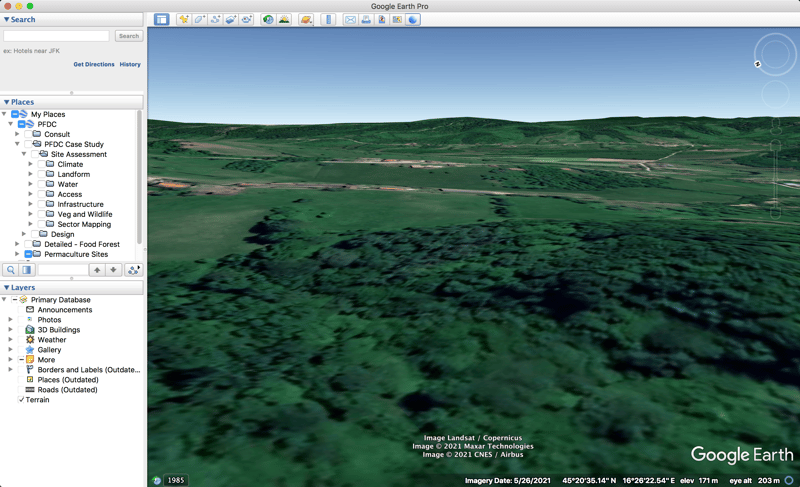 Step 3. Draw a straight line with a ruler
Now, click the 'Ruler' tool on the Google Earth toolbar (1) and switch to path tab (2).
Draw a straight line across the property going downwards or upwards the slope (3)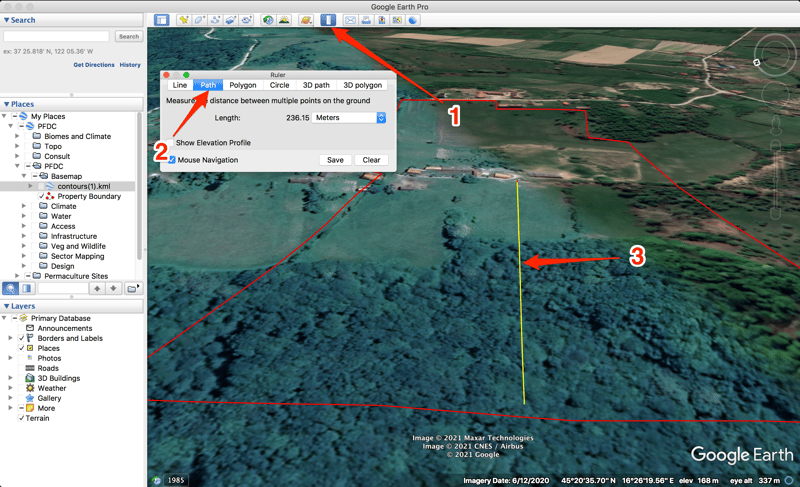 Step 4. Show elevation profile
Then, check the 'show elevation profile' option to show the elevation profile of the path you just drew. The Google Earth will now generate a slope outline throughout the whole length of the path.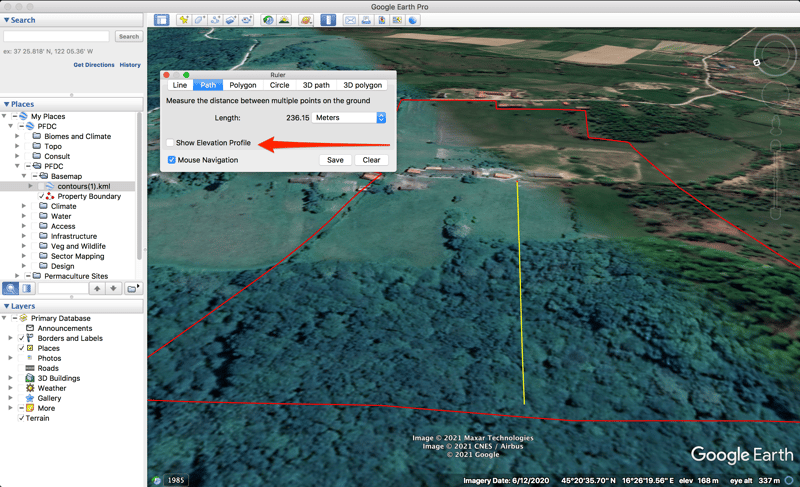 Step 5. Assess the slope
Now that you have the elevation profile of the slope you can assess the slope.
Hold your mouse over the elevation profile, it will show a red arrow on the map marking the location, and also display the height above sea level and gradient at that point.
Look at the 'avg slope' value to reveal the steepness of the slope.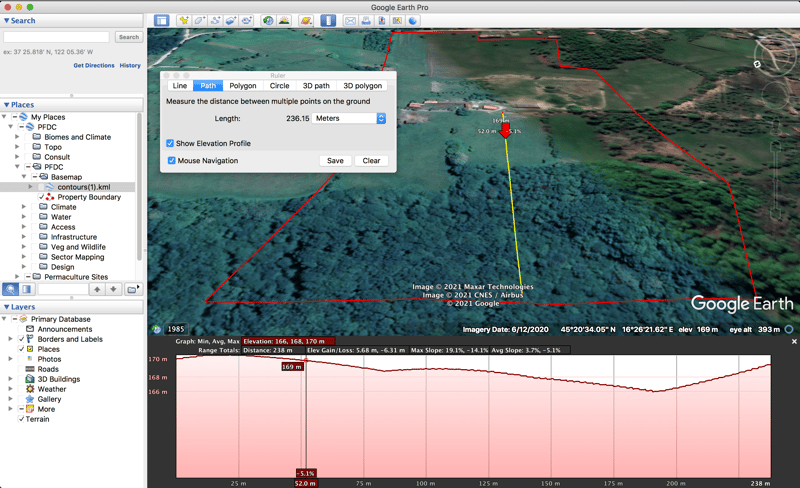 Note: In some cases, the elevation profile is too short to show the value of the average slope. In that case use the formula (Rise ÷ Run) x 100 to get the slope value. For example, elevation gain/loss (rise) might be 15 m and distance 200 m, 15/200 * 100 = 7.5%
If the slope is unreasonably steep or the terrain is too flat for you, then it has failed your test, and you don't even have to investigate any further!
***
See, that wasn't that hard, and you've gathered some important permaculture intel.
In about 10 minutes, you can have an answer to whether the land is something you are looking for – without the trouble of meeting anyone at the location or even driving there in the first place.
Google Earth is a great tool for conducting remote property assessments like I just did here for the slope.
You can check out the activity in the neighborhood, determine distances and radiuses, and analyze water harvesting and storage potential, slope aspects, infrastructure placement and orientation of buildings, and much more besides.
In future posts, I'll outline more practical tutorials about each of these remote assessments. For now, make sure that you download the step-by-step guide on remote slope assessment attached down below.
Good luck with your land hunt,
-William
EXCLUSIVE FREE RESOURCE: Click here to get your property assessment assessment guide
(Visited 6,574 times, 1 visits today)