I get a lot of questions about permaculture resources, so I thought it would be helpful to create a resource page with a list of books, videos, and courses to which I can point people. I'll add to it as I learn more, but it's a comprehensive list for now.
There is a lot of material here. I haven't read all the books, watched all the videos, or taken all the courses, but everything I included in the list comes highly recommended by the people in the permaculture community. I recommend bookmarking this site for your reference. Enjoy!
Disclosure: Please note that some of the links below are affiliate links, meaning I will earn a commission if you decide to make a purchase. There is no additional cost to you. Think of it as a way to support my work.
---
THE BIG PICTURE
Many people don't know that Permaculture as a design system specifically evolved over the last 40 years to creatively respond to futures that involve progressively less and less available energy. Its emergence was very much influenced by the publication of the seminal Limits To Growth report in 1972; both Bill Mollison and David Holmgren believed that permaculture was going to be projected into a collapsing world…the permaculture resources below are a great starting point if you want to learn more about where we're headed as a society and what to expect.
Books:
Websites:
Free Resource:
I created a Great Reset Prep sheet outlining five things you can do in the next 15 minutes to brace yourself for the Great Reset.
You can download it here.
---
INTRODUCTION TO PERMACULTURE
If you're new to permaculture, start by reading Gaia's Garden, this is the best introductory book for newcomers. Watch some free videos from Geoff Lawton to get an idea of what's possible with permaculture. All these books are a great read, especially the practical insights of Sepp Holzer and Ben Falk. Here's the list of permaculture resources I recommend in this category.
Books:
Videos:
---
PERMACULTURE DESIGN
First and fourth-most, you'll need A Designer's Manual. This is the permaculture bible. Then watch Bill Mollison's Permaculture Lecture Series, the videos from his two design courses. Another great permaculture resource is the Permaculture Skills DVD which distills 20 days of Permaculture Courses into 7.5 hours of instructional video learning. In this list of permaculture resources, I also included some apps and software you can use for your designs. If you feel stuck, I have written a guide on How to design your property, where I explain the process of Permaculture Design step by step.
Books:
Videos:
Courses:
Apps and Software:
Need help designing your property?
Grab your free Permaculture Design Toolkit, which will show you the top software and online tools I recommend for permaculture design.
---
UNDERSTANDING SOIL
Building soil for better crops is an excellent free permaculture resource and a guide to ecological soil management. All other books are also essential for a better understanding of the soil's web of life. Elaine Ingham's and Gabe Brown's videos are a must-watch. Also, there are good courses on soil restoration, but they're rather expensive, so before delving into those, read all the books you can get your hands on, and while you're at it, read my guide on building deep rich soils by imitating nature. With that here are the permaculture resources I recommend in this category.
Books:
Videos:
Courses:
Free Resource:
Want to improve your soil the permaculture way?
Skip the guesswork and use this FREE "Soil Building Checklist" as your reference (Click here to get the checklist).
---
GROWING – PLANT GUIDES, PROPAGATION, GARDENING
Plants guides & Indexes
To start growing something, you'll need trees, shrubs, perennials, and annuals. Here's the list of permaculture resources to learn about growing plants. If you're after seeds, The Seed Search by Karen Platt is the best book to find any kind of seeds imageable. Plants For a Future is a wonderful web database for finding potential plants to grow, and all the books I mentioned have detailed descriptions of the plants you might want to get. I also included Picture This app that can recognize plants based on the leaf photo you take with your smartphone.
Books:
Apps and Databases:
Plant propagation
This will be one of your most important skills as a permaculturist, and it saves you money too. There are many resources on the web about propagation, but if I had to recommend only one, it would be the American Horticultural Society Plant Propagation book. The Grafter's Handbook is one of the best books on grafting. For video tutorials on different plant propagation techniques and nursery setups, check Mike's Backyard Nursery youtube channel.
Books:
Videos:
Free Resource:
Want to grow 1000's of trees for a fraction of time and money other people spend? Download my free step-by-step guide and find out how!
Small Scale Vegetable Gardening
There is a saying, 'growing your food is like printing your money,' and realistically, you don't need that much space to produce enough food for your own needs. Start with Square Foot Gardening and fundamentals and read other books to build upon that.
Books:
Want to calculate how much food you need to grow to feed your family?
I've created a spreadsheet that will help you calculate how much food you need to grow to feed your family.
You can download it here.
Edible Landscaping
You can learn how to design your productive environment using vegetables, fruits, flowers, and herbs with these two great how-to manuals.
Books:
Forest gardening and Food Forests
Want to create a food forest on your land? Read Martin Crawford's Creating a Forest Garden first; it's simple, practical, and straight to the point. If you want more advanced stuff, read Edible Forest Gardens or my step-by-step guide, where I summarise all the info from the books into an easy-to-follow guide. Some of the best permaculture resources include…
Books:
Videos:
Courses:
Free Resource:
Want to create a food forest and grow 3-5X more food with less maintenance compared to conventional gardening?
Good! Grab a copy of my Food Forest Starter Pack. It will walk you through the exact steps you need to take to implement this 5000-word blog post you're reading (click here to download).
Fungi and Growing Mushrooms
Books:
Free Resource: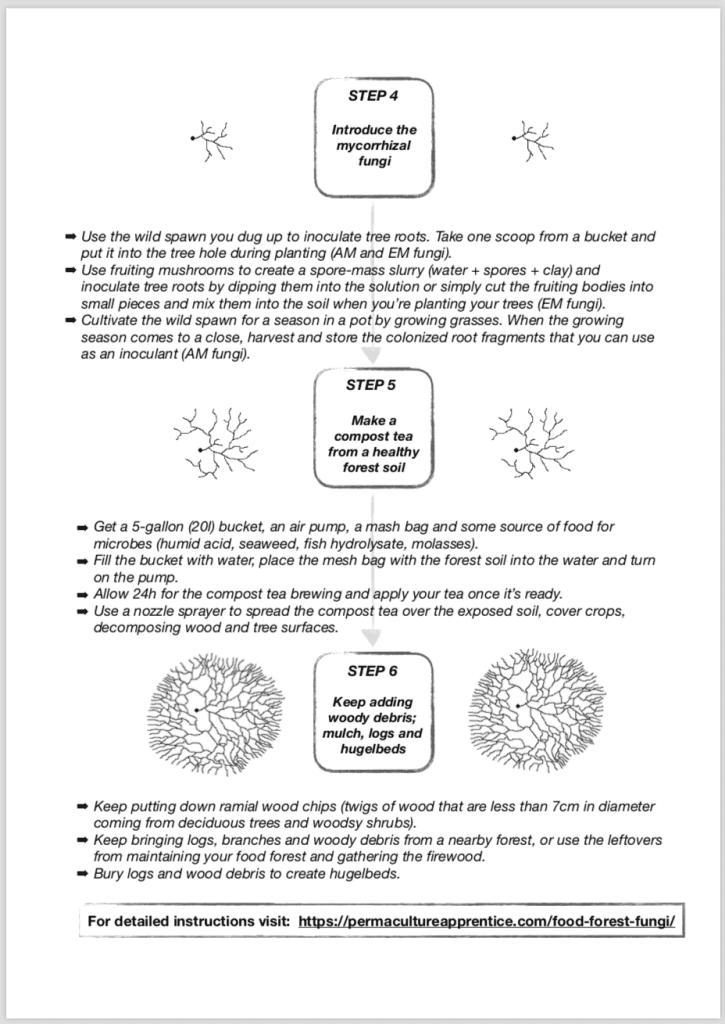 ---
STARTING OUT WITH THE PERMACULTURE FARM
Finances and decision-making
You have to start from somewhere, so read Your money or your life to ask yourself some life-changing questions. Then, learn how to save money for your farm by reading Early retirement extreme and do what it takes to be mortgage free like Rob Roy recommends. Be guided by your holistic goals in planning the future you want and deciding where to settle.
Examples of successful farms
Don't try to reinvent the wheel; read about examples of how others are running their farms and making a living out of it.
Water management and earthworks
The first thing you'll need to set up on your farm is water systems and learn how to harvest, store and redistribute that water. There are many permaculture resources on the subject, and all books below are well worth a read. Geoff specializes in water-harvesting earthworks, so his DVD is good to watch. Paul Wheaton's 3-DVD set is also a wealth of information on earthworks and hugelkultures.
Books:
Videos:
Courses:
Want to calculate how much water you'll need for your property?
Use this free worksheet to calculate *exactly* how much water your property needs, so that you can design your water systems correctly.
(Click here to download the worksheet).
Market gardening
Market Gardening is the quickest way to earn income from your farm, but it requires knowledge, practice, and dedication. Elliot Coleman's The New Organic Grower is a classic; start with that. If you're serious about gearing up some production and selling it to the market, read The Market Gardener. This is the manual for market gardening. I also wrote a pretty popular post about his operation.
Books:
Free Resource:
Want to make $100,000 farming 1 acre or less?
Great! I've put together a free email course about the ins and outs of setting up a profitable market gardening operation (Click here to get the free course).
Permaculture orchards, tree crops, and agroforestry
If you're planning an orchard or have an existing one that you want to covert, read The Holistic Orchard for a great introduction to the subject, then watch the Permaculture Orchard DVD as a reference on how to set it up. Read my post, where I go into detail about Stefan's operation. Scaling up, Edible Agroforestry Designs is an amazing free resource for setting up agroforestry systems.
On the other hand, If you're in a position to manage forests or woodlands on your property, read Ben Law's The Woodland Way or Michael Pilarski's Restoration Forestry on how to do it sustainably. Plenty of permaculture resources to get you started in the right direction…
Books:
Videos:
Free Resource:
Want to start a permaculture orchard that makes $$ per acre?
Good! Grab a copy of my Orchard Design Guide to take the first step and map out the orchard layout. Just click here.
Integrating animals
With animals comes the responsibility and a great opportunity for improving the soil, healthy food, and profits. From permaculture resources, I recommend reading Holistic Management Handbook, an excellent guide on implementing holistic management. Then read Joel's books on his proven systems of pastured poultry and cattle and Greg Judy's No risk ranching. If you're into keeping chickens, Justin's Rhodes Permaculture Chicken is the video to watch.
Books:
Videos:
Selling, Marketing, and Business
Let's talk business. If you want to make your farm financially sustainable. Read Joe's inspirational You Can Farm and Booker T. Whatley's Handbook for inspiration and great advice. Learn how to manage finances with The Organic Farmer's Business Handbook. The other two books don't have much to do with farming but are essential to understanding marketing and selling.
Books:
---
All right, I hope you found this list of permaculture resources helpful.
In the comments below, let me know what other resources you recommend. I'm always looking to improve the page with new helpful materials.
Thanks,
-William