---
Whenever someone asks me to help them design their site, my inner designer says, "give me a topographic map of your site."
With a topographic map, I can feel the terrain and decipher what's happening from a distance. I can see what the landscape looks like, how the water moves, where there's a potential for flooding, where it's dry, where it's too steep for anything to go, where the rocks are sticking out, where the soil is deeper…
Without it, you can't understand your landscape properly, which could lead to dangerous and potentially expensive design mistakes, like positioning your house on a floodplain. But there are many more type-1 errors, all due to an improper understanding of basic topography.
So, if you've ever thought about creating a design for your land, then don't do it without a topographic map…
A topographic map will be the starting point for your permaculture design because it will be the base template on which you'll draw your design. You'll not only be laying out elements and design features on your site, but you'll also be using it to interpret your landscape and document your insights from the site assessment.
As you can see, acquiring a topographic map is essential for any permaculture property design work!
However, the problem is that getting a topographic map that explicitly shows your property features with a satisfactory contour overlay can get rather expensive pretty soon.
For a detailed and accurate topographic map, with contours every 2 ft/0.5m, you'll need to hire someone with the know-how. That is unless you have the skill to do it yourself somehow using some GIS tools.
Both options can be pricey for a property owner/designer who just needs a 'good enough' topographic map to start the design.​​
So in this post, I'll show you how to quickly and easily generate a topographic map – free of charge, without special mapping skills, expensive software, or investing a lot of time and money. We'll do this in 10 minutes using your browser and Google Earth.​​
Tall order? Well, let's start the timer…
STEP 1. Locate your property on the Contour Map Creator website
Open the http://contourmapcreator.urgr8.ch/ website in your browser. There you'll find a free web app that lets you generate contours for your property at the click of a button.
Now zoom in on your property, use the search bar, and then use your mouse to center the map with your property in the middle.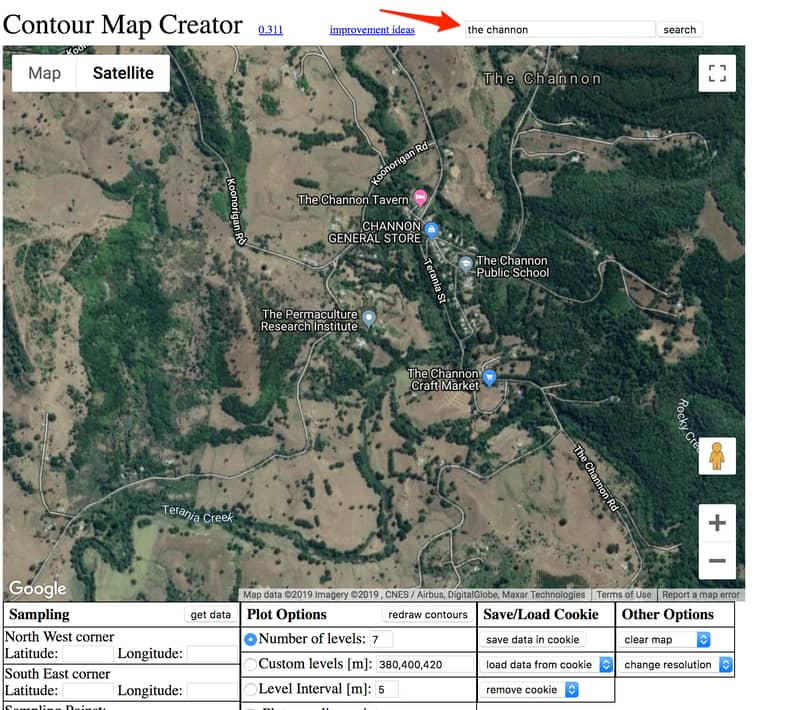 Note: Don't zoom in too much, as you're also trying to get the overall picture of the topography surrounding the property.
STEP 2. Draw a sampling area
Mark a rectangle by adding two pins to the map. Put one pin in the corner and the other in the opposite one.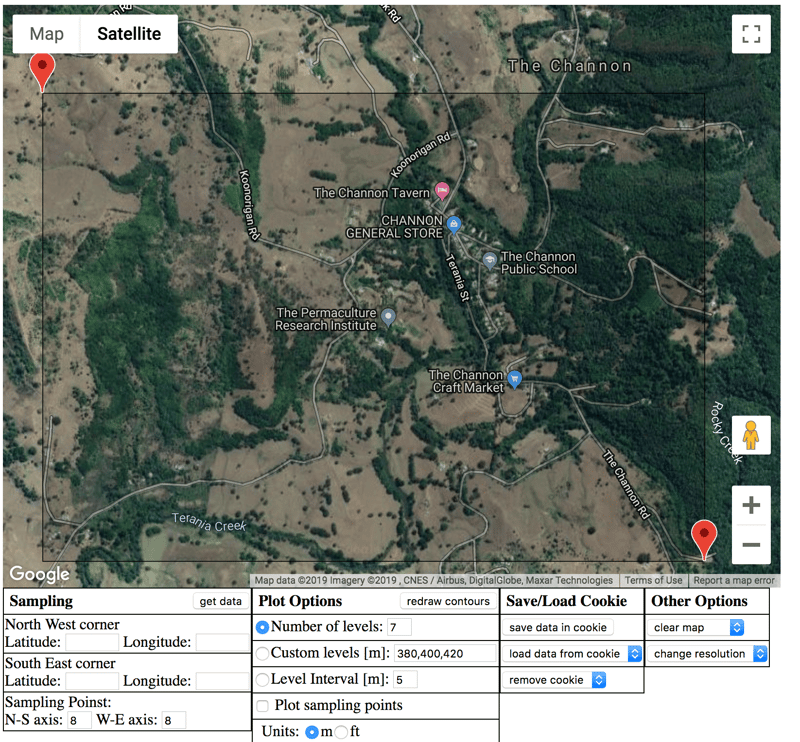 STEP 3. Get a contour map
Now adjust the plot options, check the level interval option, and put in 5m/15ft (or less). This determines the resolution of your contour map; in this case, you'll get a contour map with contours every 5m/15ft.
Click the 'Get Data' button under the sampling tab – and the app generates a contour map for you.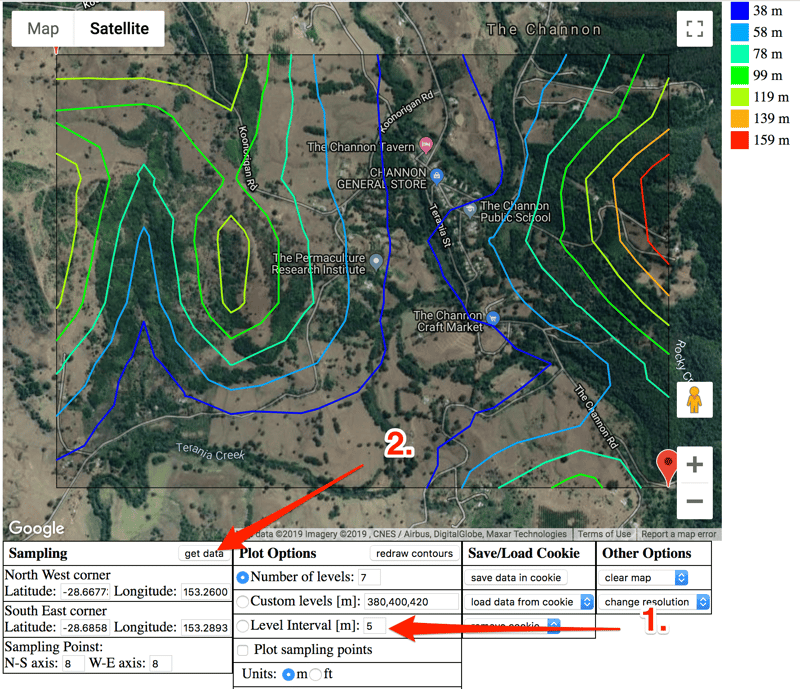 Now you could leave it at that, take a screenshot, and you have the topographic map you can draw on top using PowerPoint, Paint, Illustrator, Gimp, or whatever software program you prefer.
But I recommend importing this contour map into Google Earth, where you have better design tools.
STEP 4. Import the contour map into Google Earth
Scroll down and press 'Download KML file.'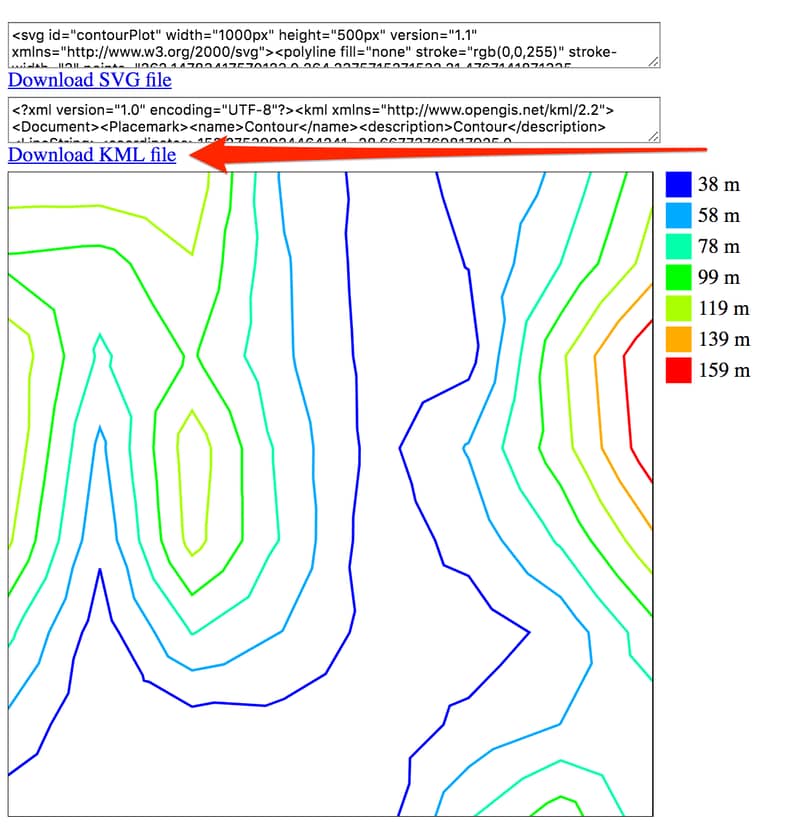 Now locate that file in your download folder and open it in Google Earth.
Launching the application will automatically zoom in onto your property, and you'll have contour lines overlaid on top of the satellite photo background.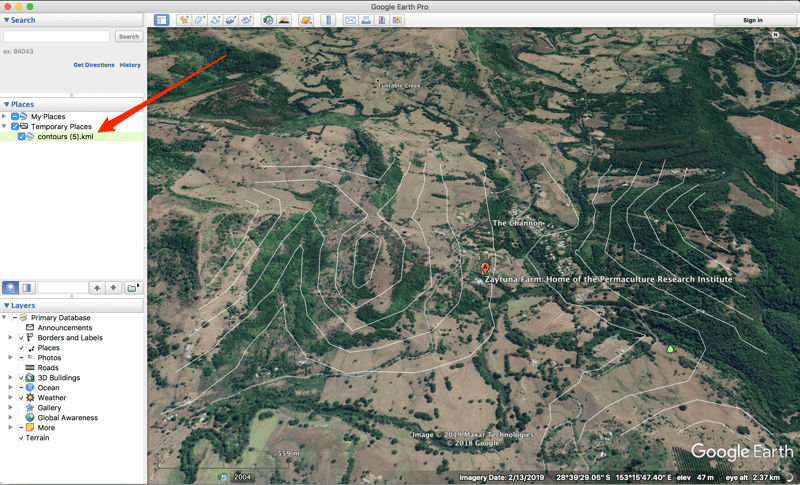 Note: If Google Earth doesn't automatically take you to the area with contours, you might need to enable the newly imported 'Contours' kmz file in the sidebar under the Places bar.
---
Okay, stop your timer…How did we go?
As I promised, that was easy: no experience, skill, or money required.
Note that this simplicity has its drawbacks, of course. The major one is that the topographic map you will obtain using this method isn't that accurate in some situations.
This app uses Google Elevation API, or, better said, DEM (digital elevation model), which Google uses in its Google Earth and Google Maps products. DEM is a 3D computer graphic representation of a terrain's surface created from a terrain's elevation data originating from various sources (e.g., LIDAR, radar, stereo photogrammetry, mapping drones…).
Since Google does not release official information on their DEM sources, most likely, it's a patchwork of sources, i.e., the best they can find for a given location, which varies. Some places might have extraordinary accuracy, some less than average – so keep in mind that you might not be seeing the exact representation of your site.
For more accurate and detailed topographic maps, you should extract contours from existing topographic maps, more accurate DEMs, or do a survey of your site.
But more on that some other time.
Talk soon,
-William
(Visited 12,740 times, 61 visits today)