Note: this is another guest post, this time by one of my readers and a fellow blogger Sandrine Ferwerda. Sandrine and her husband live in rural Spain where they're starting a permaculture farm from scratch. In this post, you'll learn how they used volunteers to kickstart their permaculture project and how can you do the same.
A little help from volunteers?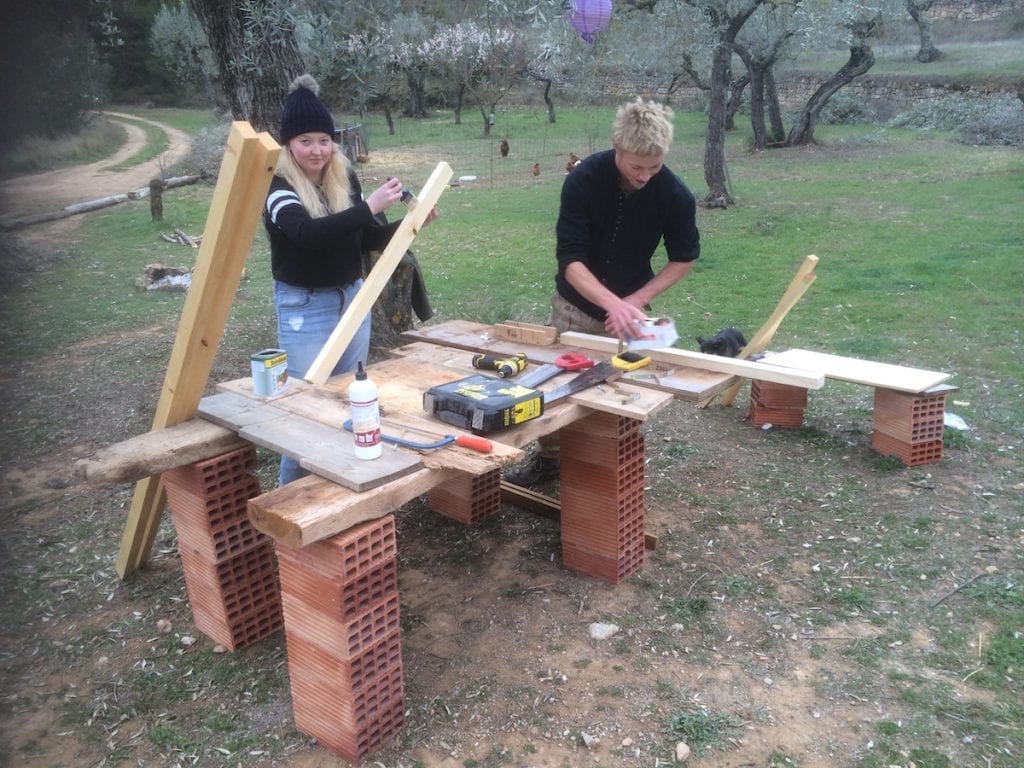 3,5 years ago, my husband and I bought a beautiful piece of land, destined to become our life's work. There was nothing on it but an old derelict shed and about 200 very neglected almond and olive trees; it had a lot of potential.
Unfortunately, the land was also a bit over budget – which meant that after the purchase and the construction of a house (that would double as a bed & breakfast), there wouldn't be much left to invest in the land. No expensive machinery, no employing locals to work the land…
A few friends suggested inviting volunteers to come and help us. At first, it seemed unthinkable; who would want to come and camp out with us (there was no house yet) – and would it be fair to ask people to help us out for free?
However, we took the plunge – and it was one of the best things we ever did. The secret lies in the word "exchange"; people will happily help us out, in exchange for something worthwhile. Some want to get a sneak peek at our lives because they want to start their own project some day; some are just travelling around and want to explore the wonders of inland Spain; and other just have a few weeks (or months) vacation and like to spend that in the peace and quiet of our mountain – painting, reading, writing (and helping us out a bit). We spend time teaching our volunteers whatever they want to know (from drywalling to the mysteries of off-grid technology), set up experiments and projects together, drive them to the start of a hiking trail or a nearby village on their day off, go out for tapas or a local fiesta on Saturday night and have long talks on the state of the world over a bottle of wine; they will share their skills and knowledge with us, talk about the place they're from and the countries they've visited, cook their signature dish and of course help us out with the work on the farm… and leave a trace long after they're gone.
Kickstart a permaculture project
We can honestly say we wouldn't be where we are now without the help of our volunteers. 
We had our house built by a local team of builders, but we did the finishing ourselves; we had volunteers grouting, painting, cleaning, mixing cement, cutting up tiles and much more.
We have 3,65 hectares (about 9 acres) of land with mainly olive and almond trees; we learned how to prune them and care for them from locals, but after that, we took over with the help of volunteers. They help us prune, mulch and harvest; they help us dig swales, plant new trees, get more straw and manure from our neighbors (who have horse stables) and dig and mulch some more.
We're situated in the hills of inland Spain, and our land is composed of several terraces . Many terrace walls were crumbling by the time we bought the place, so we've spent weeks (months) so far assembling stones, rebuilding walls and making stairs between terraces.
We've opened up our bed & breakfast last summer; in the morning while I do the laundry, a volunteer will help me clear the breakfast tables and prepare the rooms for the next check-in.
Of course, we could do all of this on our own – however having somebody else there to help you out (we usually have 2-3 volunteers at the same time) makes a big difference. Everything goes so much faster…
Apart from that, our volunteers also made it possible for us to take some time off from time to time. They will happily care for the animals when we take a day trip to the big DIY store – or even when we go away for a few days to visit our families.
But maybe it's not for you
We've hosted more than 50 volunteers since we started (most stay for about 2-3 weeks), and we've made many friends who host volunteers – online and offline. I honestly think anyone could host volunteers, provided they're willing to put some effort into it. However, you will be welcoming total strangers into your home; you will share at least a part of your life with them for the length of their stay. You'll have to make sure they are comfortable and happy, and well-fed. You'll need to supervise them, sometimes more than you'd like to; and accept that sometimes they won't do things exactly the way you like it, or they might break something. You'll spend some time selecting the perfect volunteers for your project; sometimes volunteers will write to you asking to be part of your journey, sometimes you'll have to browse volunteering websites and ask people to come and help out. Most volunteering websites have a review system which is very helpful; usually you'll exchange a few e-mails before agreeing to host them, but you could even ask for a Skype or phone call to make sure you're on the same page.
Yes, hosting volunteers takes a lot more effort than just paying somebody to do the same job – to us it is worth it though, as we feel we're getting much more out of the exchange than we would with just a hired gun (and… it's cheaper).
Before you start hosting
If you're thinking about hosting volunteers, think long and hard about what you're prepared to offer, and what you'd like to get in return. What can you teach them, do you need your volunteers to have a certain background or experience (e.g. volunteers who ride horses, teach yoga or can cook)? What kind of accommodation is available? Do you want help for a limited time / to complete a single project, or do you need help with daily chores, a bigger project, a longer period of time? Do you want single people or couples, younger or older helpers, native French speakers (you could learn the language)?
In any case, be honest and clear in your communication. Volunteers appreciate it when they're getting what you're advertising: accommodation, food, working hours and days off. In exchange, ask them for anything that might be a deal breaker for you; diet or allergies, availability and way of transportation, should they bring their own tent to sleep in,…
You might need to make a few small investments; for instance we bought a gas burner for the volunteers to cook their own breakfast and snacks-in-between-meals on, so the kitchen isn't overcrowding while I'm making breakfast or cooking for the B&B guests, baking or canning… It made me so much happier!
We always make sure the volunteers' accommodations are in good condition; getting good reviews from our current volunteers will help us attract the right volunteers for our project later.
Other hosts might be able to help you out with questions and concerns, and give you tips and tricks. There are (local and global) Facebook groups and forums for hosts, or you can just look for somebody near you who's on a volunteering website.
Useful Links
The best-known volunteering website is WWOOF – World Wide Opportunities on Organic Farms. The big pro is that it's a big, old and well-known organisation; also you can be quite sure the volunteers will be prepared to do some hard and dirty farm work. The big con is that WWOOF actually consists of several countrywide organisations; volunteers will have to join the WWOOF chapter for your country (and pay a fee for every country they want to go to), which makes it attractive for volunteers who are set on going to one country only.
We are most active on WorkAway. Their website is very clear and easy to use (for instance, you can set up messages to go straight into your e-mail inbox), and they have a thriving community. Everything you need to know about a volunteer (languages spoken, age, allergies, diet,…) is listed on their profile page, the only con (for us) is that you can't search for a volunteer based on age or gender. Sometimes we're just looking for a girl to share a room with another girl…
We are also listed on Helpx. Once you get used to it, the website is very easy to use as well, you can search for very specific volunteers (including skills), and there is a review system like at Workaway. The biggest con is that you need to log in every time you get a new message from a prospective helper; I sometimes forget to go answer them…
If you've decided to host volunteers to get your project going, enjoy the opportunity. Volunteers will come with new ideas and insights, often be able to tell you how things are done in their area, sometimes they even come with their own set of skills and experiences. In some cases you'll have a fleeting passenger, in others you might make friends for life. Every single one of them will leave a mark on your project – and you will make a difference to their lives as well.
Would you consider hosting volunteers on your permaculture project? If you've ever done it before, how did you like it?
About the Author: Sandrine Ferwerda was born in Belgium, where she grew up between horses, Sandrine Ferwerda was born in Belgium, where she grew up between horses, dogs and assorted poultry. After getting a degree in sociology, she worked as a personal assistant in Amsterdam when she and her husband decided to pack their things and move to rural Spain. With the help of volunteers, they're turning their piece of post-construction farmland into a self-sustainable permaculture paradise. When she's not writing, Sandrine likes to watch plants grow, talk to her chickens and dream about her own herd of alpaca's. Follow her on Facebook: https://www.facebook.com/masencanto/ or on her blog: https://masencanto.wordpress.com
(Visited 3,037 times, 1 visits today)